🌇 Who's in Bangkok now?
There's lots of people here now, want to organize a 🍻 meetup? Post a message in #bangkok
💬 What's happening in Bangkok now?
👍 Quick tips
💳 It is normal to tip 5% in Bangkok
🗺 Here's a neighborhood map to get around: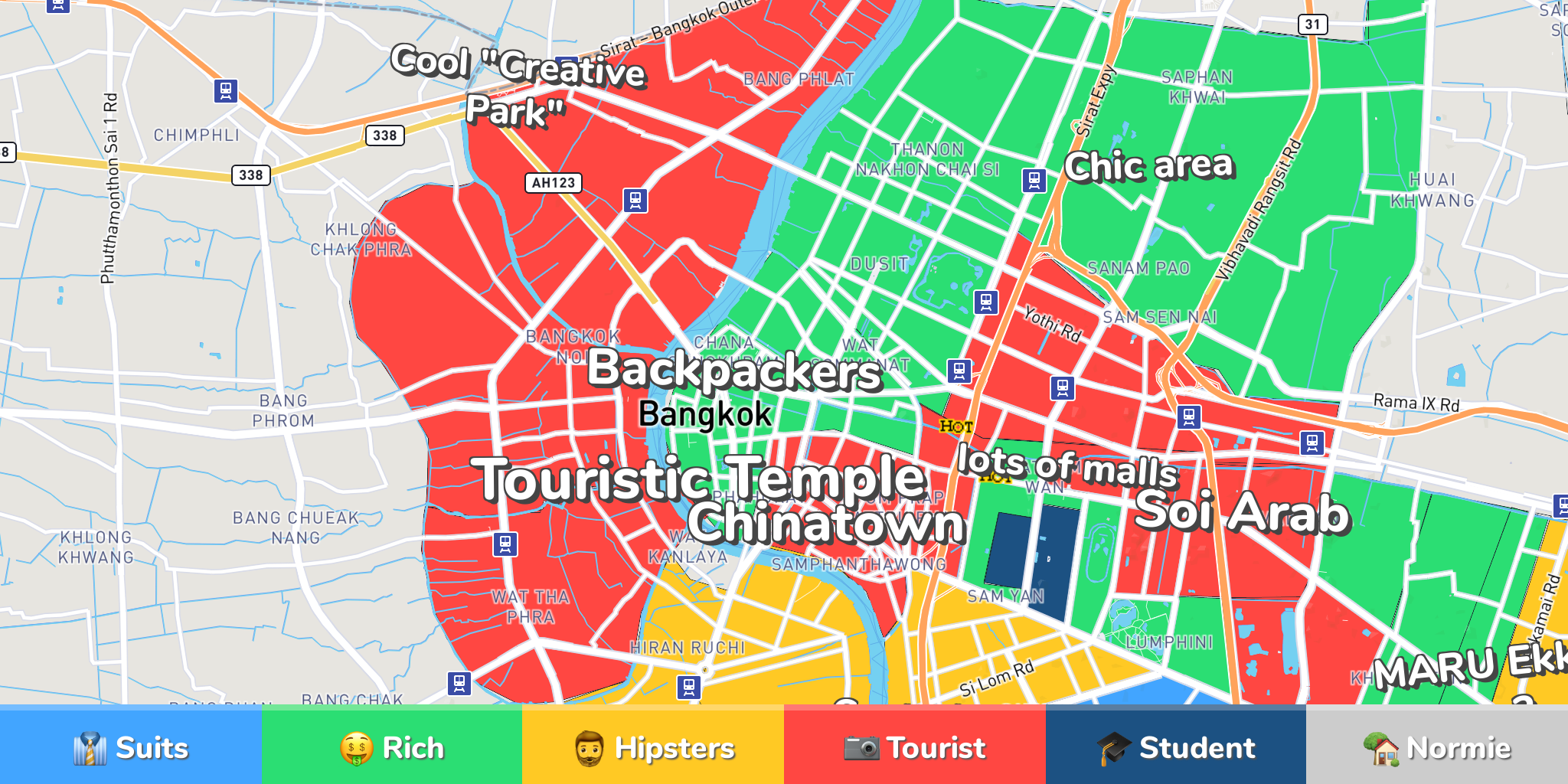 👩‍💻 Where to work in Bangkok?
🛬 Who's arriving in Bangkok soon?
✈️ People who traveled to Bangkok previously
🛫 Where do people go after Bangkok?
🎒 Nomad
💵 Cost
📡 Internet
😀 Fun
👮‍♀️ Safety
I just got back here in late 2018 and it\'s better than ever. People who say \"Chiang Mai is overrun by nomads\" are really mistaken. I hardly saw them. I did see lots of Chinese and some Korean tourists, but they were all quite nice and mostly around Nimman. There\'s also the few American vegan midlifer\'s in the Old City center, but that\'s about it. Chiang Mai is cool and breezy, there\'s now public bicycles literally everywhere that you can rent for 250 THB or $6 (per month!) with the MoBike app. The red buses (or Songthaew\'s) are now legit and don\'t rip tourists off anymore, so you can drive everywhere for 30 THB or $1. People are nice. It\'s still super safe, even late a night. The food is better than ever. And thanks to the nomad wave of 2014 in Chiang Mai, there\'s now lots of hip cafes that allow coworking too. It\'s a great city.
🎒 Nomad
💵 Cost
📡 Internet
😀 Fun
👮‍♀️ Safety
Some of the costs are accurate and some seem a little high to me as an expat. I live on the interior of the island, Kathu. We are 5 miles from beaches on either side of the island. Weather is amazing all year - between 75-85 degrees. So far monsoon season is not as bad as I expected. Traffic is really bad. I have not had an accident but the hazards are there. That may be the biggest downside. Your money speaks loudly here. I have a nice route I do on my bicycle for exercise which is shady and hilly with wide shoulders. There is a nice reservoir where people socialize and exercise.
🎒 Nomad
💵 Cost
📡 Internet
😀 Fun
👮‍♀️ Safety
Nomad-ed here for a month. A totally ok place if you have the budget for it. Coworking spaces are good, 4g everywhere, transportation is effective. Lots of things to do. I was able to find friends. Lots of international people, very few digital nomads. If you\'re there, consider not renting in the center (as it gets expensive fast) and being creative with places to eat to find cheap options. Be prepared to use cash unless you live in a luxury.
🎒 Nomad
💵 Cost
📡 Internet
😀 Fun
👮‍♀️ Safety
Whanted to write a review, wrote about 200 words than pressed the arrow key and left the page and the review was gone. Fix this shit. You obviously don\'t give a rats ass about UX
🎒 Nomad
💵 Cost
📡 Internet
😀 Fun
👮‍♀️ Safety
Ho Chi Minh City is a big hot spot for digital nomads. Currently experiencing huge growth in the number of co-working spaces available. It has a slower pace of life compared to other cities. Ho Chi Minh City is well known for its coffee culture (many local cafés), traditional architecture, and friendly locals. Prices for food and accommodation are low in comparison to other South East Asian locations. Added bonus: weekend getaways at the beach are just a bus ride away.
🎒 Nomad
💵 Cost
📡 Internet
😀 Fun
👮‍♀️ Safety
This used to be the hotspot for digital nomads in Bali until 2016 when Canggu took over. It's more deserted now and mostly filled with Chinese tourbuses, older Euro families and some yoga girls and yogi's. Not as hip as it once was. Who knows when it will make a revival. I hope.
🎒 Nomad
💵 Cost
📡 Internet
😀 Fun
👮‍♀️ Safety
Samui is Thailand\'s second most popular island for tourists, after Phuket. The main areas are Chaweng and Lamai. Chaweng used to be more backpacker and trashy (like Bali\'s Kuta) but is now rapidly developing into a real clean town. Since 2014, it now has a giant air-conditioned Central World mall, an increasing number of coffee places, good restaurants and more upscale hotels and resorts. Lamai Beach used to be the more clean and laidback area but is now deteriorating. The beaches are still okay but the streets are now filled with sex bars and bad restaurants. Worse, prices in Lamai are often higher than in Chaweng due to less competition. The preferrable spot to stay in Ko Samui now is the more mellow South Chaweng.
Join
Nomad List
Connect with these and 64,313+ other nomads
Connect with 64,313+ nomads
Join
Nomad List
1 Month Membership
$1.00/day
Billed in one payment of $30

3 Month Membership
$20.00/month
Billed in one payment of $60

12 Months Membership
$8.25/month
Billed in one payment of $99

Lifetime Membership
$149
Billed in one payment of $149

By signing up, you agree to our
terms of service
. B2C only.
Plans rebill unless canceled. You can cancel anytime.
Welcome to
Nomad List