💬 What's happening in Beijing now?
👍 Quick tips
💳 It is not required to tip in Beijing
🗺 Here's a neighborhood map to get around: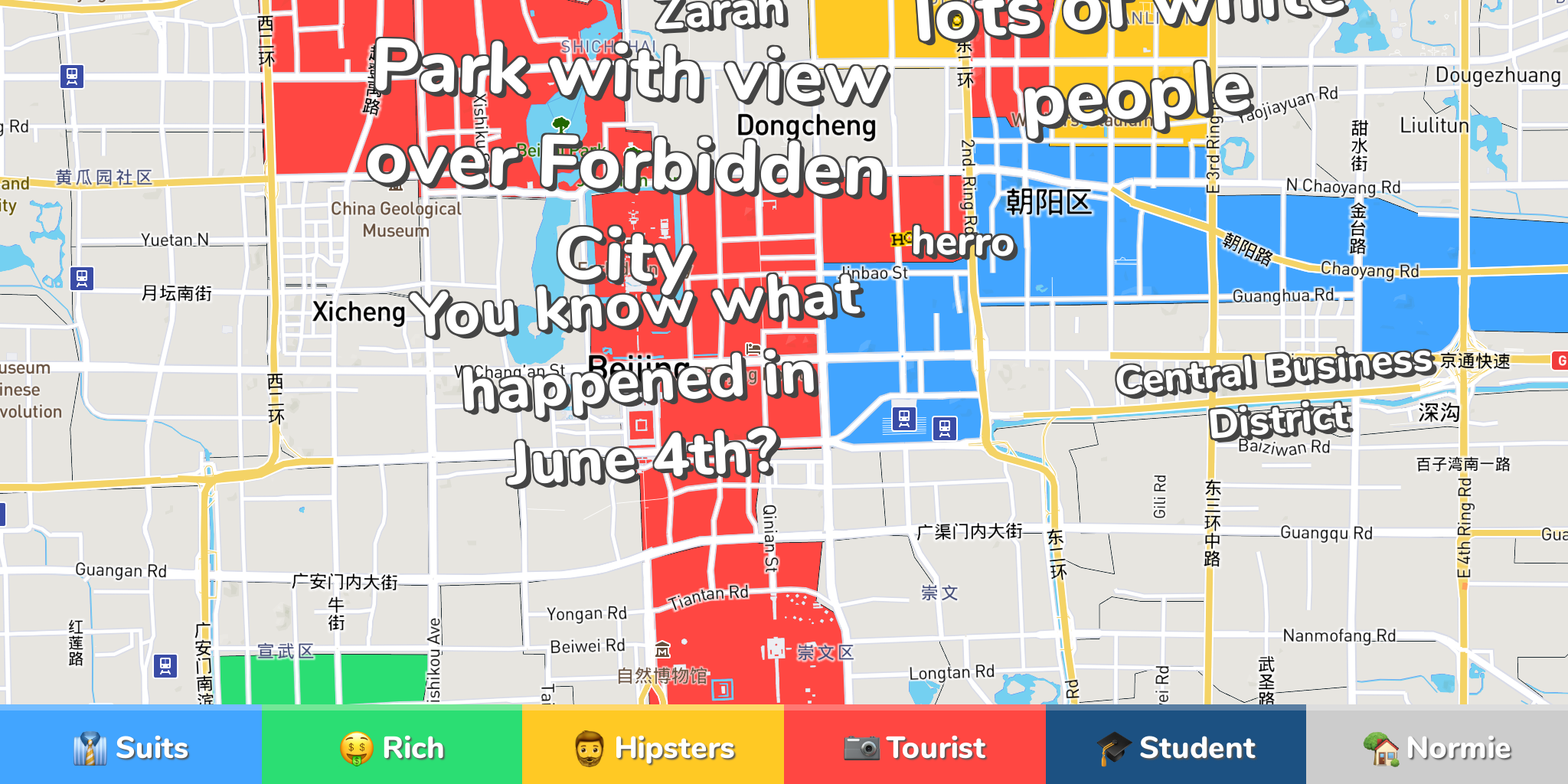 👩‍💻 Where to work in Beijing?
✈️ People who traveled to Beijing previously
🛫 Where do people go after Beijing?
🎒 Nomad
💵 Cost
📡 Internet
😀 Fun
👮‍♀️ Safety
Really fun city. I think the easiest big city in Asia for westerners to feel comfortable in. People are generally pretty friendly on a superficial level, quick to smile, laugh, and help. Unfortunately, becoming real friends with Japanese is much more difficult and most cannot speak English. Store staff are mechanically polite like robots, which is better than rude, but also a bit weird. A bit pricey and gets more expensive after a year of residence (after you get taxed based on previous year's salary, same for health insurance fees). You can drink in public at any time, though it's not really a drinker city like some European cities are known for. Clubs and music events are expensive unfortunately, though quite a few options. Great public transport system, can just be a bit confusing with all of the different names. The street layout is completely chaotic, which can be fun but also disorienting. You will often have no idea which direction you are facing, like you are in a giant maze. You can find most major international food options but not in great numbers. Obviously, Japanese food is everywhere though. It's technically on the water, though odds are you will live more inland. Still, you can reach the bay within an hour or so and an actual beach further south in Kanagawa within 90min. Japan itself has a lot of cool things to check out as well. Best time of year are spring (cherry blossoms) and fall (cooler, leaves changing cooler), though there are a series of summer festivals that start in August that are incredible (people dress in traditional clothes, food vendors all over, tons of fireworks, etc.) and they have a lot of Christmas lights and displays in December. Dating for men is not bad, just don't come expecting every woman wants you. As mentioned before, most cannot speak English and they're somewhat conservative overall, not big on casual sex. You may have an advantage in the dating pool if you're not an English teacher, since most western foreign guys there are and that job is known for not paying that well, and definitely do if you can speak Japanese near fluently. Some negatives besides those already mentioned: it's really humid and mold develops quickly, there are A LOT of crows that creeped me out and cicadas that are VERY noisy in the summer, finding the right specialist doctor that also speaks English can be tricky, the friends you make from other countries come and go constantly, a lot of guys with issues come here (socially awkward, major womanizers, right wing nuts, escaping something from their home country, stereotypical anime fanatics, etc.), Japanese men are not anywhere near as friendly as the women are and are more likely to be xenophobic (pretty much like every other country), living space is really small for the price, vegetable selection is pretty limited and expensive, a lot of food products contain soy, subways get really overcrowded during rush hour, popular areas get really overcrowded on weekends, it's not that English friendly especially dealing with contracts and anything government related (there is a free foreigner help service that can help you via phone and usually whatever government stuff you're dealing with will have at least one person on hand who understands English and can help you).
🎒 Nomad
💵 Cost
📡 Internet
😀 Fun
👮‍♀️ Safety
Really bad city to live and to visit unless you have money to live in BGC.
🎒 Nomad
💵 Cost
📡 Internet
😀 Fun
👮‍♀️ Safety
I hope less people will come to KL so i have more of the city to myself LOL. Where else can you get fresh made roti canai with teh terek for less than US1.00 for breakfast? Where else can you stay at a 5star hotel for 1/3 the cost of overpriced Singapore. Please, tourist, stay away and leave KL to expats who appreciate the good side of a typical crowded Asian city.
🎒 Nomad
💵 Cost
📡 Internet
😀 Fun
👮‍♀️ Safety
Seoul is lovely but still has some challenges for nomads. Korean food is great, but most restaurants are used to serving groups, or at least couples. Many times you'll simply be refused service entering a restaurant alone. Unlike Japan, eating alone is stil frowned upon in Korea and mostly impossible. Exceptions are of course expat areas like Itaewon which are more used to it. Also outside signage and menus are mostly still in Korean, without any English translations generally. Even if you learn the Korean characters, you won't know the words, so this makes it impossible to order. This is slowly changing though, especially in hipster areas. You might ask "why does this reviewer care stuff is in English or not, they're in Korea, what does he expect?". Well, it's 2018 and Korea presents itself as an international country, English should be the default sub text. There's more challenges, it's very difficult to meet Koreans, you'll always be seen as the "token" foreigner in social groups. This is understandable and to be fair it's much worse in Japan than Korea. Unless you're in expat areas, you'll feel fairly isolated because Koreans will generally avoid you for fear of having to speak English. This makes it a potentially very lonely experience for any nomads. This is kinda vicious because Koreans look down on people that are alone. Hence the group-eating thing. Solutions to that? Come here with a group of friends. You'll have a MUCH easier time.
🎒 Nomad
💵 Cost
📡 Internet
😀 Fun
👮‍♀️ Safety
Beautiful location but it's just way too expensive. You need to work full time at a tech company here to really afford it. It's also quite small. The divide between rich and poor is obscene, including a lot of homeless and many people asking for money all over. The tech workers who dominate the transplant crowd that you'll be around are mostly workaholic spoiled privileged people full of themselves, not the type I enjoy hanging out with. All the artsy, alternative, and activist types the city used to be known for either live in Oakland or left. The gender ratio is way too heavy on single males, so good luck getting a date, let alone a long term relationship, if you're a straight guy. Obviously, Internet speeds are great, plenty of spots to work from. Nightlife is pretty lackluster as you can imagine.
🎒 Nomad
💵 Cost
📡 Internet
😀 Fun
👮‍♀️ Safety
Join
Nomad List
Join 100,000+ nomads traveling 🌍around the world
Join
Nomad List
3 Month Membership
$20/month
Billed in one payment of $60

12 Months Membership
$8.25/month
Billed in one payment of $99

Lifetime Membership
$149
Billed in one payment of $149

You get immediate access after clicking Join Now
Welcome to
Nomad List
💖 Thank you so much for supporting Nomad List! I really appreciate it!
📬 First, please go to your email and click the confirm link first to verify your email address.
💌 After you confirm your email I'll sent you an email with more info.
👩‍💻 You can then start using all the Nomad List member-only features!
💭 If you have any feedback, please tweet me!