🌇 Who's in Berlin now?
There's lots of people here now, want to organize a 🍻 meetup? Post a message in #berlin
💬 What's happening in Berlin now?
👍 Quick tips
💳 It is normal to tip 7.50% in Berlin
🗺 Here's a neighborhood map to get around: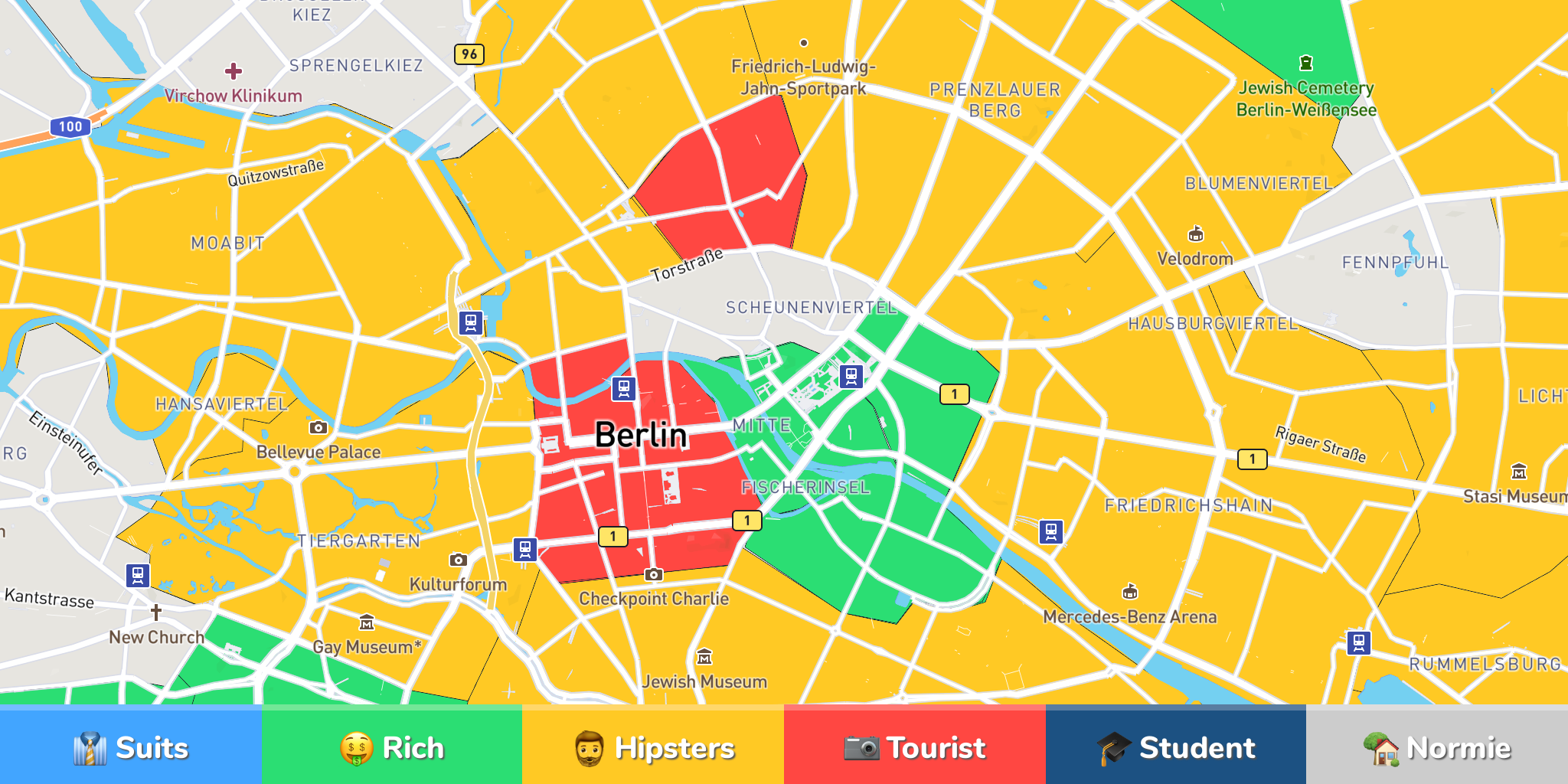 👩‍💻 Where to work in Berlin?
🛬 Who's arriving in Berlin soon?
✈️ People who traveled to Berlin previously
🛫 Where do people go after Berlin?
🎒 Nomad
💵 Cost
📡 Internet
😀 Fun
👮‍♀️ Safety
One of Europe's most beautiful cities that's been turned into an ovepriced and crowded playground for tourists and rich expats.
🎒 Nomad
💵 Cost
📡 Internet
😀 Fun
👮‍♀️ Safety
London is an amazing city but it\'s eye-wateringly expensive, don\'t expect to save money... Expect to be paying a minimum of £600/month for a bedroom in a shared house (and for this price you\'ll be in zone 2/3). Look on spareroom for houseshares and openrent for flats. Download the app Citymapper to help you get around it\'s a godsend - London is a massive city and it can take ages to get from one place to the next. There\'s tonnes of cafes, workspaces and public spaces to work in (Google campus, Barbican, Southbank centre etc). World class food, world class culture, people from all over the world! Liberal city, mostly safe... Bad air quality though. Don\'t come here thinking you can do it cheap as you will end up in a 10 person houseshare with a dodgy landlord and be stuck in some crap area of town. It\'s a hard, ruthless and expensive city to break into, plus we have a population of over 8.6MILLION so competition is tough. There\'s start-ups on every corner so plenty of people in similar situations. Just factor in the cost and be willing to stay for a while (so you can properly embrace the city) and you\'ll have a blast.
🎒 Nomad
💵 Cost
📡 Internet
😀 Fun
👮‍♀️ Safety
Prague is super awesome, it's a very beautiful city. However, I have learned two things about Prague which I want to share with future travelers and nomads, they are: - Only use ATMs that has the word "Bankomat" on it, all the other ATMs have really high fees or commission and may even in some cases support organized crime. - if you need to call the police for some reason, because of e.g. robbery or physical injury, make sure to call the state police or ask for the state police and not the municipal police. The municipal police can be very corrupt and in some cases support organized crime. That's my advice, take care.
🎒 Nomad
💵 Cost
📡 Internet
😀 Fun
👮‍♀️ Safety
Very nice city, great architecture and many historical buildings. The river and castle at night are one of the best things to see in all Europe. Many Starbucks and other coffees in the city center with good Internet. Overall getting more expensive and touristy but still cheaper than Western Europe. People however are a dealbreaker there, most unfriendly cold and rude people of all Eastern Europe.
🎒 Nomad
💵 Cost
📡 Internet
😀 Fun
👮‍♀️ Safety
Join
Nomad List
Connect with these and 64,313+ other nomads
Connect with 64,313+ nomads
Join
Nomad List
1 Month Membership
$1.00/day
Billed in one payment of $30

3 Month Membership
$20.00/month
Billed in one payment of $60

12 Months Membership
$8.25/month
Billed in one payment of $99

Lifetime Membership
$149
Billed in one payment of $149

By signing up, you agree to our
terms of service
. B2C only.
Plans rebill unless canceled. You can cancel anytime.
Welcome to
Nomad List