🌇 Who's in 🇩🇪 Berlin now?
💬 What's happening in 🇩🇪 Berlin now?
👍 Quick tips
💳 It is normal to tip 7.50% in Berlin
🗺 Here's a neighborhood map to get around: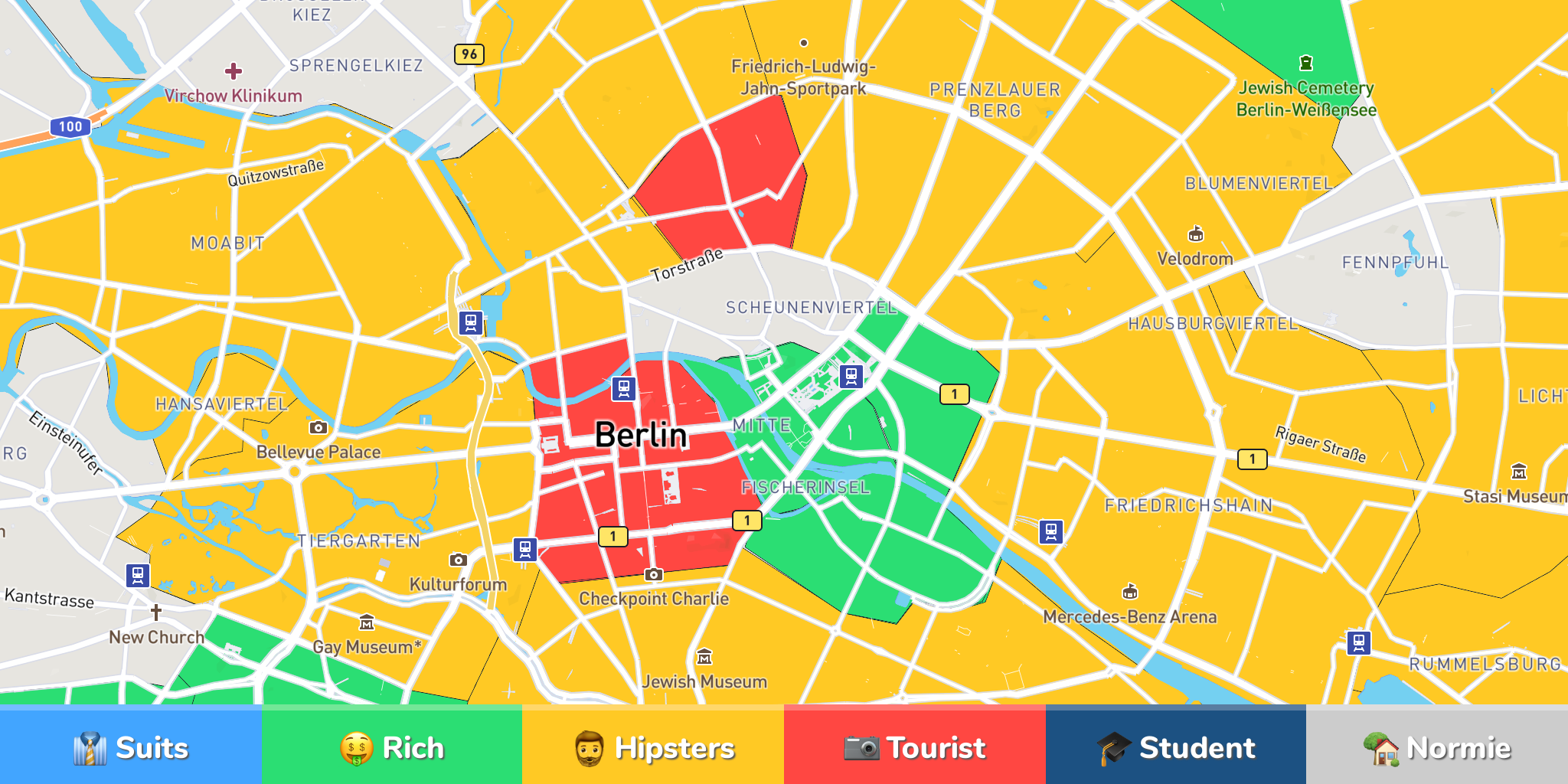 👩‍💻 Where to work in 🇩🇪 Berlin?
🛬 Who's arriving in Berlin soon?
✈️ People who traveled to Berlin previously
🛫 Where do people go after Berlin?
🎒 Nomad
💵 Cost
📡 Internet
😀 Fun
👮‍♀️ Safety
London is an amazing city but it's eye-wateringly expensive, don't expect to save money... Expect to be paying a minimum of £600/month for a bedroom in a shared house (and for this price you'll be in zone 2/3). Look on spareroom for houseshares and openrent for flats. Download the app Citymapper to help you get around it's a godsend - London is a massive city and it can take ages to get from one place to the next. There's tonnes of cafes, workspaces and public spaces to work in (Google campus, Barbican, Southbank centre etc). World class food, world class culture, people from all over the world! Liberal city, mostly safe... Bad air quality though. Don't come here thinking you can do it cheap as you will end up in a 10 person houseshare with a dodgy landlord and be stuck in some crap area of town. It's a hard, ruthless and expensive city to break into, plus we have a population of over 8.6MILLION so competition is tough. There's start-ups on every corner so plenty of people in similar situations. Just factor in the cost and be willing to stay for a while (so you can properly embrace the city) and you'll have a blast.
🎒 Nomad
💵 Cost
📡 Internet
😀 Fun
👮‍♀️ Safety
Awesome place to travel to, fun environment and beautiful city.
🎒 Nomad
💵 Cost
📡 Internet
😀 Fun
👮‍♀️ Safety
Have spent over 4 years living in Budapest and also extended periods in many other places usually towards the top of the rankings on nomadlist. Nothing compares to Budapest. It is by far the best place in the world to live for people of all ages, but especially young people. It has everything and anything you could possibly want and it's centrally located in the best continent on the planet. I moved away for a few specific reasons but really hate that I had to. The only city I think is even close in comparison to how great Budapest is, is Barcelona.
‹
›
×
Join