🌇 Who's in 🇿🇦 Cape Town now?
There's lots of people here now, want to organize a 🍻 meetup? Post a message in #cape-town
💬 What's happening in 🇿🇦 Cape Town now?
👍 Quick tips
💳 It is normal to tip 12.50% in Cape Town
🗺 Here's a neighborhood map to get around: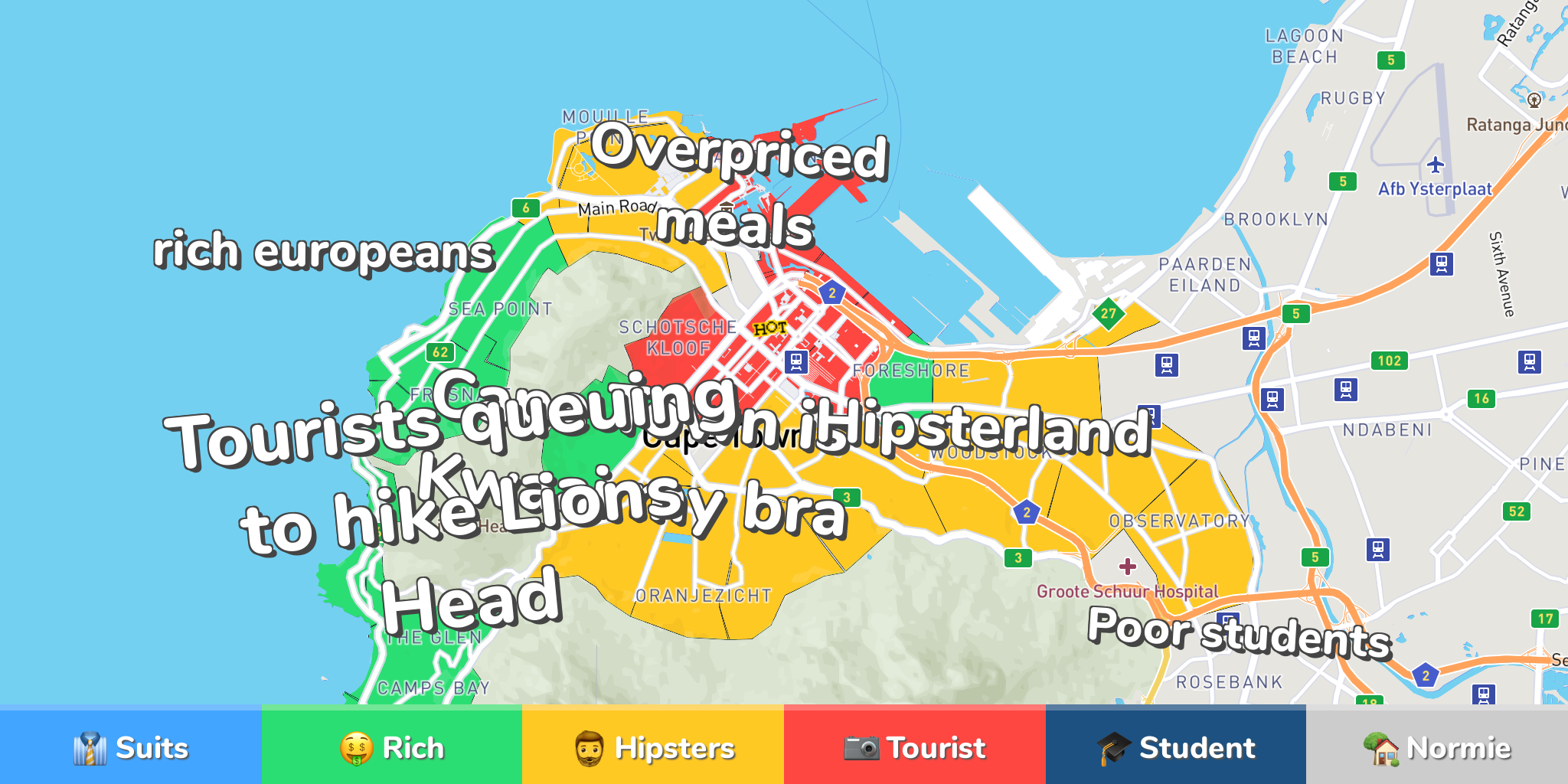 👩‍💻 Where to work in 🇿🇦 Cape Town?
🛬 Who's arriving in Cape Town soon?
✈️ People who traveled to Cape Town previously
🛫 Where do people go after Cape Town?
🎒 Nomad
💵 Cost
📡 Internet
😀 Fun
👮‍♀️ Safety
London is an amazing city but it's eye-wateringly expensive, don't expect to save money... Expect to be paying a minimum of £600/month for a bedroom in a shared house (and for this price you'll be in zone 2/3). Look on spareroom for houseshares and openrent for flats. Download the app Citymapper to help you get around it's a godsend - London is a massive city and it can take ages to get from one place to the next. There's tonnes of cafes, workspaces and public spaces to work in (Google campus, Barbican, Southbank centre etc). World class food, world class culture, people from all over the world! Liberal city, mostly safe... Bad air quality though. Don't come here thinking you can do it cheap as you will end up in a 10 person houseshare with a dodgy landlord and be stuck in some crap area of town. It's a hard, ruthless and expensive city to break into, plus we have a population of over 8.6MILLION so competition is tough. There's start-ups on every corner so plenty of people in similar situations. Just factor in the cost and be willing to stay for a while (so you can properly embrace the city) and you'll have a blast.
🎒 Nomad
💵 Cost
📡 Internet
😀 Fun
👮‍♀️ Safety
You get somewhat acclimated to the weather after a while (and yes, the right wool fabric is the most breathable one so ignore that previous reviewer). I've stayed here on and off for about 4 years now. The expat crowd is great and there really is a lot of opportunity for collaboration. Many networking events every month and a vibrant startup community. The variety of food is some of the best in the world (although you will have to pay to get quality Western). Shopping is great. Nightlife could be better but should satisfy most people. The real downside is the traffic which has become basically as bad as Jakarta, although Bangkok has much better transporation (both skytrain and subway). Living expenses have risen lately so don't count on this being a budget trip unless you want to resort to street food. Internet speed generally has becoming really great. Fast 4G in all operators. If you stay in a new condo or hotel you will average at least 30Mbit – my current co work place runs at 600.
🎒 Nomad
💵 Cost
📡 Internet
😀 Fun
👮‍♀️ Safety
🎒 Nomad
💵 Cost
📡 Internet
😀 Fun
👮‍♀️ Safety
×
Join
Nomad List
Join 100,000+ nomads traveling 🌍around the world
🚫 Remove all ads from Nomad List
Join
Nomad List
3 Month Membership
$20/month
Billed in one payment of $60

12 Months Membership
$8.25/month
Billed in one payment of $99

Lifetime Membership
$149
Billed in one payment of $149

You get immediate access after clicking Join Now
By signing up, you accept our
terms of service
.
Monthly and annual plans rebill unless canceled.
Welcome to
Nomad List
💖 Thank you so much for supporting Nomad List! I really appreciate it!
📬 First, please go to your email and click the confirm link first to verify your email address.
💌 After you confirm your email I'll sent you an email with more info.
👩‍💻 You can then start using all the Nomad List member-only features!
💭 If you have any feedback, please tweet me!