🌇 Who's in Chiang Mai now?
There's lots of people here now, want to organize a 🍻 meetup? Post a message in #chiang-mai
💬 What's happening in Chiang Mai now?
👍 Quick tips
💳 It is normal to tip 5% in Chiang Mai
🗺 Here's a neighborhood map to get around: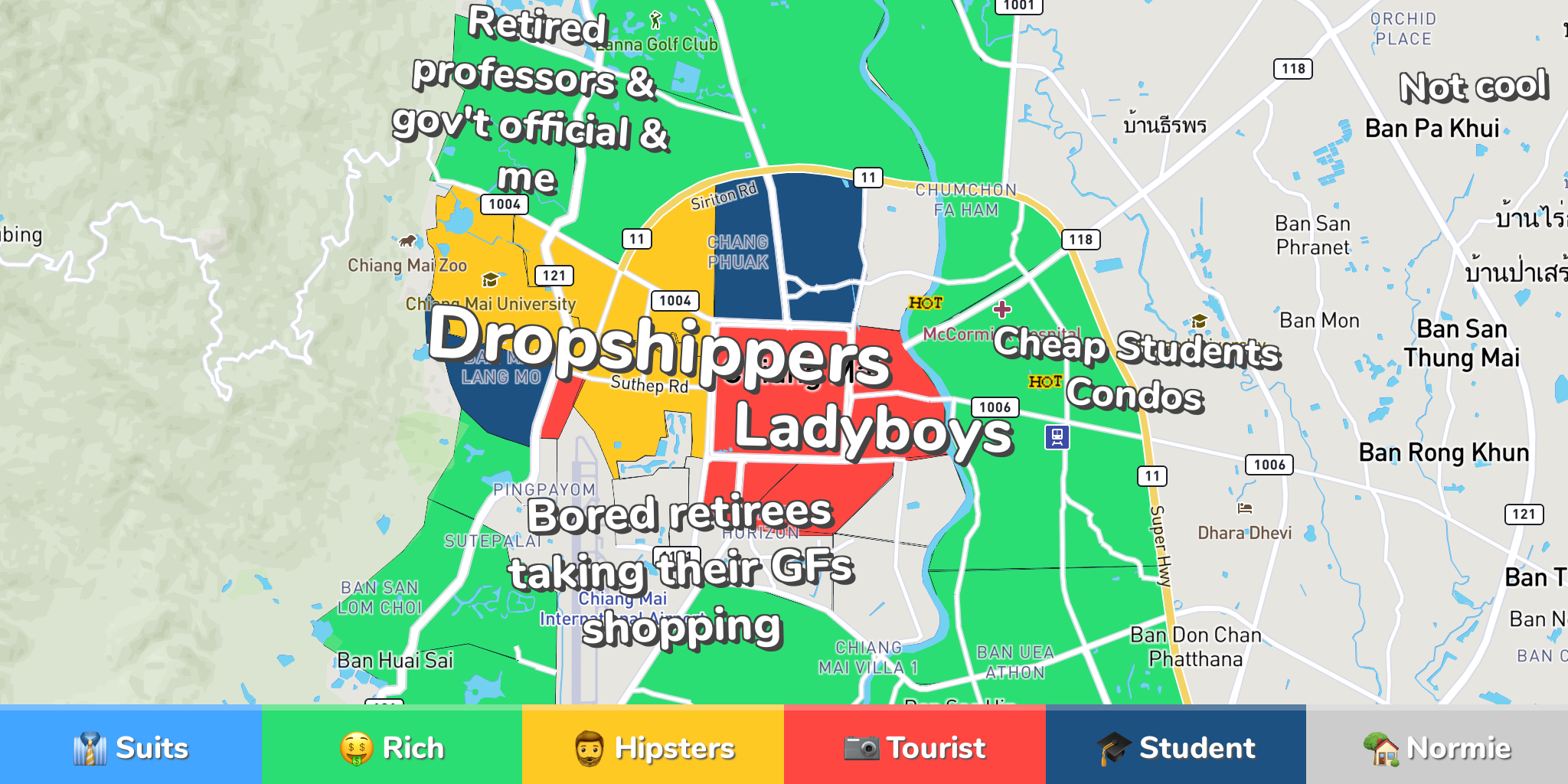 👩‍💻 Where to work in Chiang Mai?
🛬 Who's arriving in Chiang Mai soon?
✈️ People who traveled to Chiang Mai previously
🛫 Where do people go after Chiang Mai?
🎒 Nomad
💵 Cost
📡 Internet
😀 Fun
👮‍♀️ Safety
You get somewhat acclimated to the weather after a while (and yes, the right wool fabric is the most breathable one so ignore that previous reviewer). I\'ve stayed here on and off for about 4 years now. The expat crowd is great and there really is a lot of opportunity for collaboration. Many networking events every month and a vibrant startup community. The variety of food is some of the best in the world (although you will have to pay to get quality Western). Shopping is great. Nightlife could be better but should satisfy most people. The real downside is the traffic which has become basically as bad as Jakarta, although Bangkok has much better transporation (both skytrain and subway). Living expenses have risen lately so don\'t count on this being a budget trip unless you want to resort to street food. Internet speed generally has becoming really great. Fast 4G in all operators. If you stay in a new condo or hotel you will average at least 30Mbit – my current co work place runs at 600.
🎒 Nomad
💵 Cost
📡 Internet
😀 Fun
👮‍♀️ Safety
Whanted to write a review, wrote about 200 words than pressed the arrow key and left the page and the review was gone. Fix this shit. You obviously don\'t give a rats ass about UX
🎒 Nomad
💵 Cost
📡 Internet
😀 Fun
👮‍♀️ Safety
It's easy to see why digital nomads head north from Bangkok and Chiang Mai to take advantage of the ast internet and cheap cost of living in idyllic Pai. Well-connected to Chiang Mai via bus and plane, Pai makes a great break from city life with its waterfalls, hot springs, spas, elephant treks and Pai Canyon.
🎒 Nomad
💵 Cost
📡 Internet
😀 Fun
👮‍♀️ Safety
Ho Chi Minh City is a big hot spot for digital nomads. Currently experiencing huge growth in the number of co-working spaces available. It has a slower pace of life compared to other cities. Ho Chi Minh City is well known for its coffee culture (many local cafés), traditional architecture, and friendly locals. Prices for food and accommodation are low in comparison to other South East Asian locations. Added bonus: weekend getaways at the beach are just a bus ride away.
🎒 Nomad
💵 Cost
📡 Internet
😀 Fun
👮‍♀️ Safety
This used to be the hotspot for digital nomads in Bali until 2016 when Canggu took over. It's more deserted now and mostly filled with Chinese tourbuses, older Euro families and some yoga girls and yogi's. Not as hip as it once was. Who knows when it will make a revival. I hope.
🎒 Nomad
💵 Cost
📡 Internet
😀 Fun
👮‍♀️ Safety
Some of the costs are accurate and some seem a little high to me as an expat. I live on the interior of the island, Kathu. We are 5 miles from beaches on either side of the island. Weather is amazing all year - between 75-85 degrees. So far monsoon season is not as bad as I expected. Traffic is really bad. I have not had an accident but the hazards are there. That may be the biggest downside. Your money speaks loudly here. I have a nice route I do on my bicycle for exercise which is shady and hilly with wide shoulders. There is a nice reservoir where people socialize and exercise.
Join
Nomad List
Connect with these and 64,313+ other nomads
Connect with 64,313+ nomads
Join
Nomad List
1 Month Membership
$1.00/day
Billed in one payment of $30

3 Month Membership
$20.00/month
Billed in one payment of $60

12 Months Membership
$8.25/month
Billed in one payment of $99

Lifetime Membership
$149
Billed in one payment of $149

By signing up, you agree to our
terms of service
. B2C only.
Plans rebill unless canceled. You can cancel anytime.
Welcome to
Nomad List