👍 Quick tips
💳 It is normal to tip 15% in Denver
🗺 Here's a neighborhood map to get around: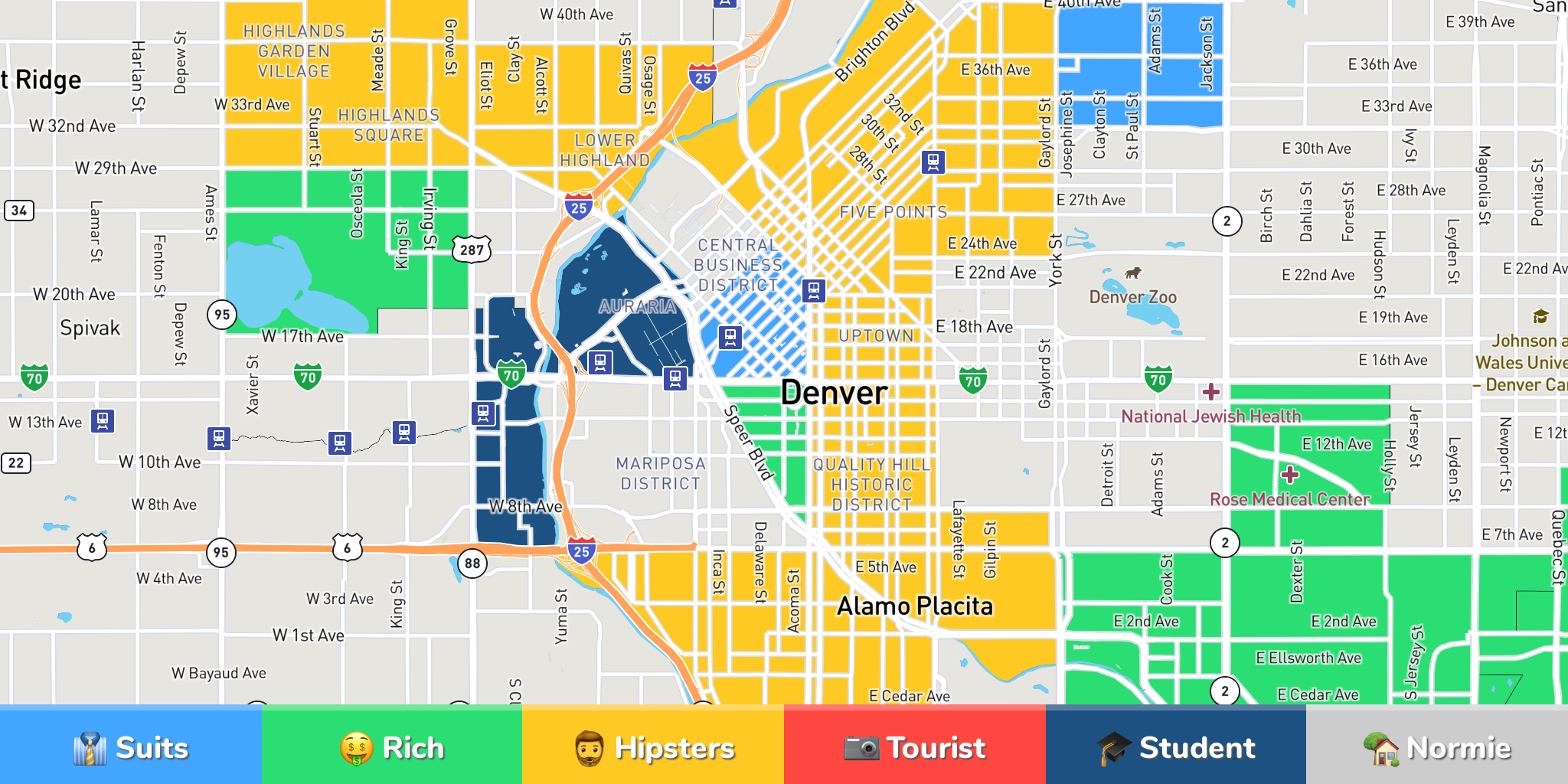 👩‍💻 Where to work in Denver, CO?
🛬 Who's arriving in Denver, CO soon?
✈️ People who traveled to Denver, CO previously
🛫 Where do people go after Denver, CO?
🎒 Nomad
💵 Cost
📡 Internet
😀 Fun
👮‍♀️ Safety
Beautiful location but it's just way too expensive. You need to work full time at a tech company here to really afford it. It's also quite small. The divide between rich and poor is obscene, including a lot of homeless and many people asking for money all over. The tech workers who dominate the transplant crowd that you'll be around are mostly workaholic spoiled privileged people full of themselves, not the type I enjoy hanging out with. All the artsy, alternative, and activist types the city used to be known for either live in Oakland or left. The gender ratio is way too heavy on single males, so good luck getting a date, let alone a long term relationship, if you're a straight guy. Obviously, Internet speeds are great, plenty of spots to work from. Nightlife is pretty lackluster as you can imagine.
🎒 Nomad
💵 Cost
📡 Internet
😀 Fun
👮‍♀️ Safety
🎒 Nomad
💵 Cost
📡 Internet
😀 Fun
👮‍♀️ Safety
Amazing nightlife and possibly the best overall food scene in the states (lots of michelin-level restaurants at far lower prices than NYC/SF). Avoid the winter and you'll love your time Chicago. It's a city of neighborhoods, so do some research to find which area suits you best. Lots of creative types live/work in the west side (West Loop, Wicker Park, Bucktown, Logan Square, etc.)
🎒 Nomad
💵 Cost
📡 Internet
😀 Fun
👮‍♀️ Safety
Nothing does a better job of explaining LA's beautiful diversity and different neighborhoods than the documentary about the late Jonathan Gold, our city's greatest amabassador and the only food critic to ever win a Pulitzer Prize. It is called, "City of Gold" and if you want to know LA, just watch this film. Trailer link: https://youtu.be/DmKTRDfz1zM
🎒 Nomad
💵 Cost
📡 Internet
😀 Fun
👮‍♀️ Safety
The digital nomad hotspot of Latin America now, far surpassing Medellin recently. It's like the Bangkok of America. It's very cheap, very fun and relatively safe now (if you stay in the right areas).
🎒 Nomad
💵 Cost
📡 Internet
😀 Fun
👮‍♀️ Safety
One of the most well known cities, few will be surprised by what they see and experience. Very high cost of living can make it tough for many nomads. A lot of things to see and do but most of that costs money. Can feel overwhelming and oppressively business oriented (ie, full of very serious yuppies and places catering to them), especially in Manhattan south of Harlem. Ton of single people, which is good on paper but means everyone you date will get distracted by another person, or multiple, unless you are extremely exceptional, before you have a chance to meet again, never ends. Weather sucks hard from July to August and January to March/April. It's an okay city if you're a biker and varies a lot. Some areas are quite protected, others have no bike lanes. In general, it can be dangerous if you want to commute by bike, it's not Amsterdam. Friendliness of the people varies a lot. I think income/wealth, where they grew up, where they live within NYC, their job, etc. can often give you an idea of what to expect. Service at stores is usually pretty unhelpful and unfriendly but, again, it varies, even within the same store. Internet is fast for the most part. Great selection of food, just a bit pricey besides some of the cheaper pizza slices. Transportation system is good, no need for a car. However, the subway lines are notorious for having issues during rush hour and are usually jam packed. Also, the stations look decrepit and are way out of date. It's pretty safe. Street scams are more prevalent in tourist areas, pick-pocketing and random phone snatching isn't really anything most people worry about. Can be very noisy depending on where you live. You may wake up to extremely loud construction every morning.
🎒 Nomad
💵 Cost
📡 Internet
😀 Fun
👮‍♀️ Safety
Great place to hang out in Texas. Enjoy the crowds? Head downtown during and after a UT football game in the fall. Avoid the crowds? Take a short drive to the hill country to hang out on a lake, hike the hills, or tour one of the many wineries or distilleries.
🎒 Nomad
💵 Cost
📡 Internet
😀 Fun
👮‍♀️ Safety
Join
Nomad List
Join 100,000+ nomads traveling 🌍around the world
Join
Nomad List
3 Month Membership
$20/month
Billed in one payment of $60

12 Months Membership
$8.25/month
Billed in one payment of $99

Lifetime Membership
$149
Billed in one payment of $149

You get immediate access after clicking Join Now
Welcome to
Nomad List
💖 Thank you so much for supporting Nomad List! I really appreciate it!
📬 First, please go to your email and click the confirm link first to verify your email address.
💌 After you confirm your email I'll sent you an email with more info.
👩‍💻 You can then start using all the Nomad List member-only features!
💭 If you have any feedback, please tweet me!