🌇 Who's in 🇻🇳 Ho Chi Minh City now?
There's lots of people here now, want to organize a 🍻 meetup? Post a message in #ho-chi-minh-city
💬 What's happening in 🇻🇳 Ho Chi Minh City now?
👍 Quick tips
💳 It is not required to tip in Ho Chi Minh City
🗺 Here's a neighborhood map to get around: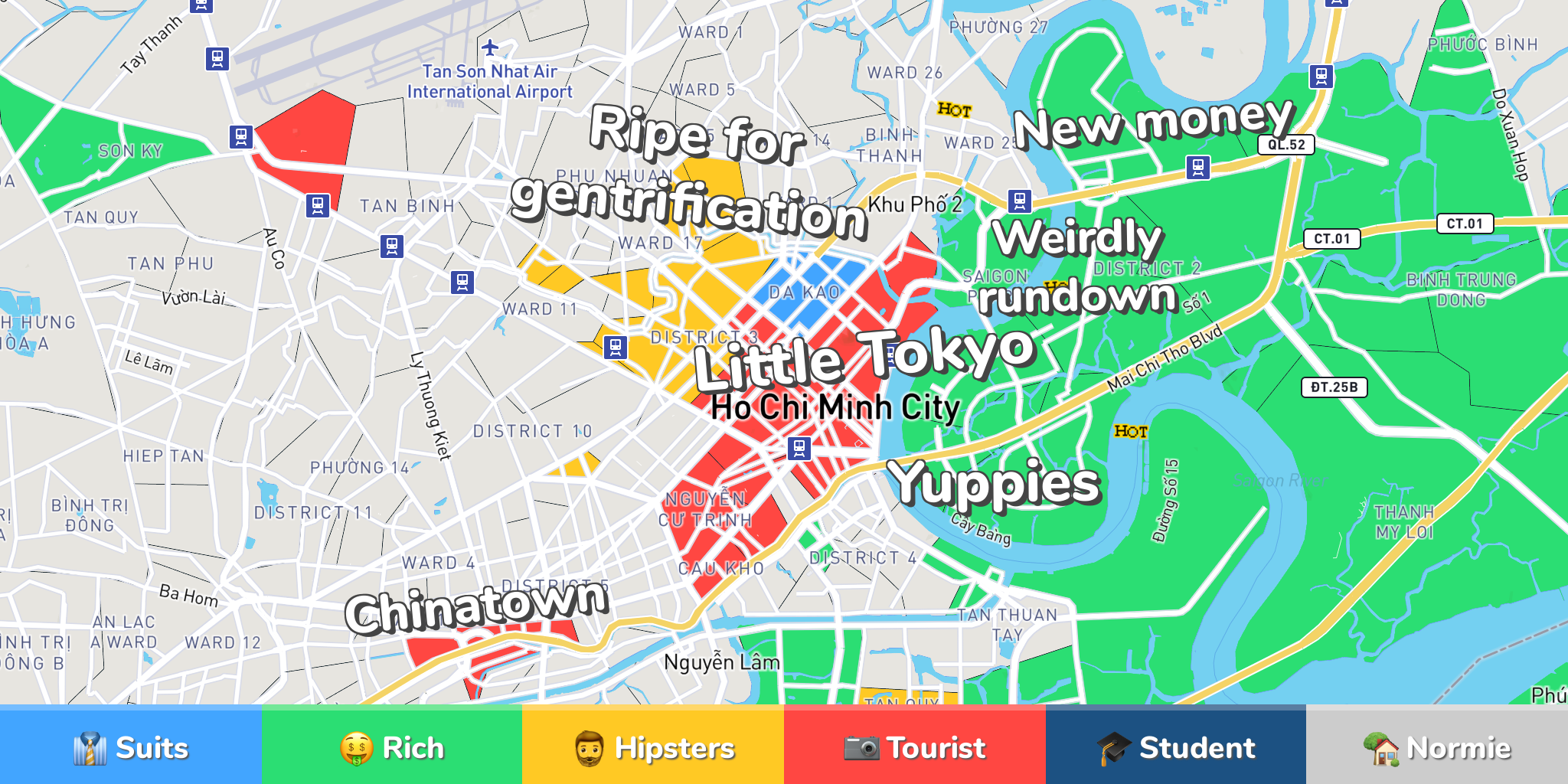 👩‍💻 Where to work in 🇻🇳 Ho Chi Minh City?
🛬 Who's arriving in Ho Chi Minh City soon?
✈️ People who traveled to Ho Chi Minh City previously
🛫 Where do people go after Ho Chi Minh City?
🎒 Nomad
💵 Cost
📡 Internet
😀 Fun
👮‍♀️ Safety
You get somewhat acclimated to the weather after a while (and yes, the right wool fabric is the most breathable one so ignore that previous reviewer). I've stayed here on and off for about 4 years now. The expat crowd is great and there really is a lot of opportunity for collaboration. Many networking events every month and a vibrant startup community. The variety of food is some of the best in the world (although you will have to pay to get quality Western). Shopping is great. Nightlife could be better but should satisfy most people. The real downside is the traffic which has become basically as bad as Jakarta, although Bangkok has much better transporation (both skytrain and subway). Living expenses have risen lately so don't count on this being a budget trip unless you want to resort to street food. Internet speed generally has becoming really great. Fast 4G in all operators. If you stay in a new condo or hotel you will average at least 30Mbit – my current co work place runs at 600.
🎒 Nomad
💵 Cost
📡 Internet
😀 Fun
👮‍♀️ Safety
🎒 Nomad
💵 Cost
📡 Internet
😀 Fun
👮‍♀️ Safety
Stay in luxury Airbnb with all mod cons for less than $700 per month. Eat for less than $5. It's clean and has everything you need, including great supermarkets and restaurants. Stay away from KL if you want history etc, but if you're an expat this ticks every box.
🎒 Nomad
💵 Cost
📡 Internet
😀 Fun
👮‍♀️ Safety
I just got back here in late 2018 and it's better than ever. People who say "Chiang Mai is overrun by nomads" are really mistaken. I hardly saw them. I did see lots of Chinese and some Korean tourists, but they were all quite nice and mostly around Nimman. There's also the few American vegan midlifer's in the Old City center, but that's about it. Chiang Mai is cool and breezy, there's now public bicycles literally everywhere that you can rent for 250 THB or $6 (per month!) with the MoBike app. The red buses (or Songthaew's) are now legit and don't rip tourists off anymore, so you can drive everywhere for 30 THB or $1. People are nice. It's still super safe, even late a night. The food is better than ever. And thanks to the nomad wave of 2014 in Chiang Mai, there's now lots of hip cafes that allow coworking too. It's a great city.
🎒 Nomad
💵 Cost
📡 Internet
😀 Fun
👮‍♀️ Safety
Nomad-ed here for a month. A totally ok place if you have the budget for it. Coworking spaces are good, 4g everywhere, transportation is effective. Lots of things to do. I was able to find friends. Lots of international people, very few digital nomads. If you're there, consider not renting in the center (as it gets expensive fast) and being creative with places to eat to find cheap options. Be prepared to use cash unless you live in a luxury.
🎒 Nomad
💵 Cost
📡 Internet
😀 Fun
👮‍♀️ Safety
It's possible to live in Hong Kong on the cheap. You've got to live far out in the New Territories, or on an outlying island. I spent a summer living happily on Lamma Island for ~$500USD/month in rent for one bedroom in a shared flat. Rent is really the only tricky part--everything else is relatively cheap.
‹
›
×
Join
Nomad List
Join 100,000+ nomads traveling 🌍around the world
🚫 Remove all ads from Nomad List
Join
Nomad List
3 Month Membership
$20/month
Billed in one payment of $60

12 Months Membership
$8.25/month
Billed in one payment of $99

Lifetime Membership
$149
Billed in one payment of $149

You get immediate access after clicking Join Now
By signing up, you accept our
terms of service
.
Monthly and annual plans rebill unless canceled.
Prices in US dollars. Billed from Nomad List, Singapore.
Welcome to
Nomad List
💖 Thank you so much for supporting Nomad List! I really appreciate it!
📬 First, please go to your email and click the confirm link first to verify your email address.
💌 After you confirm your email I'll sent you an email with more info.
👩‍💻 You can then start using all the Nomad List member-only features!
💭 If you have any feedback, please tweet me!