🌇 Who's in 🇨🇴 Medellín now?
There's lots of people here now, want to organize a 🍻 meetup? Post a message in #medellin
💬 What's happening in 🇨🇴 Medellín now?
👍 Quick tips
💳 It is not required to tip in Medellín
🗺 Here's a neighborhood map to get around: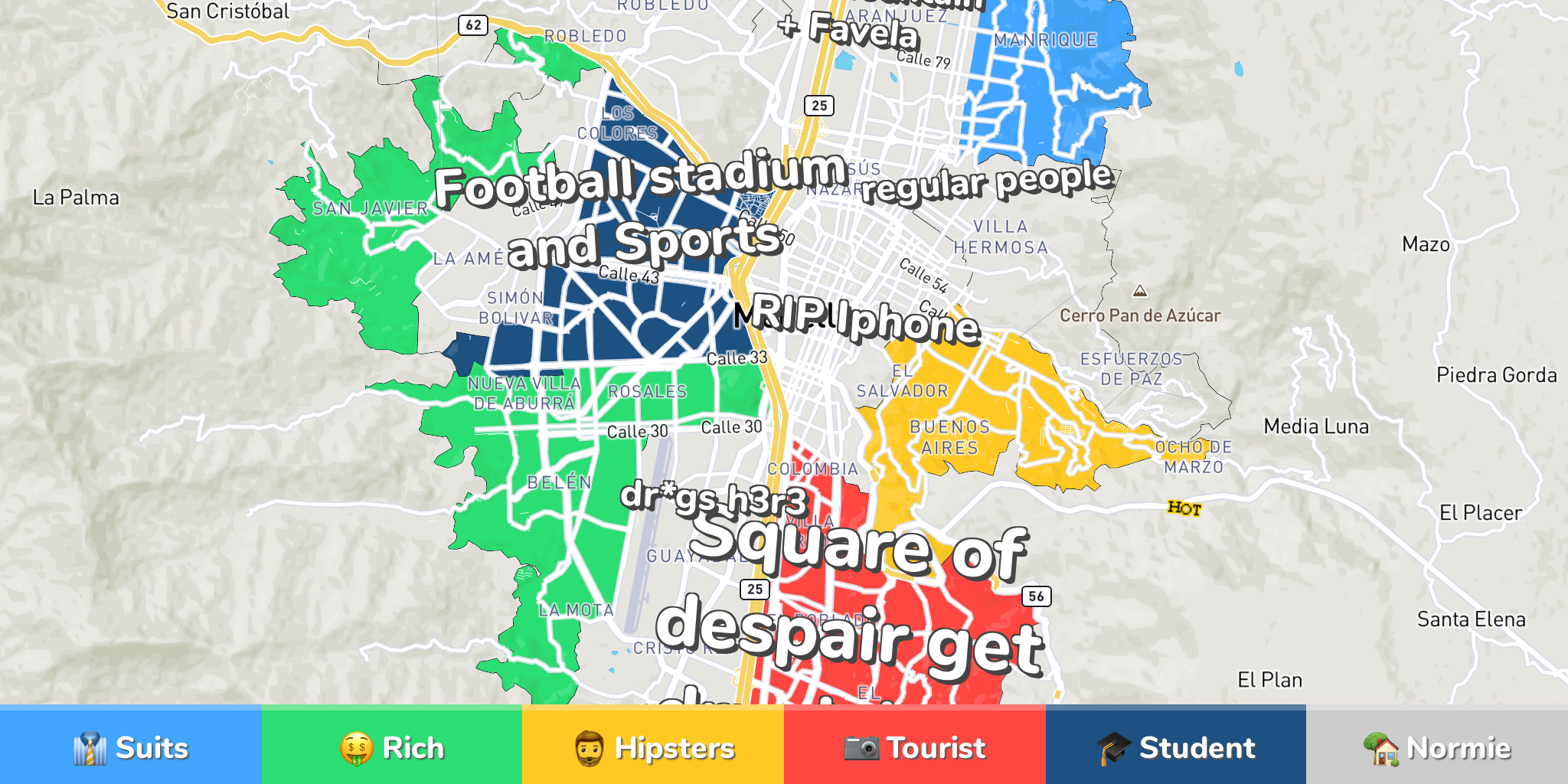 👩‍💻 Where to work in 🇨🇴 Medellín?
🛬 Who's arriving in Medellín soon?
✈️ People who traveled to Medellín previously
🛫 Where do people go after Medellín?
🎒 Nomad
💵 Cost
📡 Internet
😀 Fun
👮‍♀️ Safety
The beaches are not good. You'll have to go to the islands or natural park if you want a nice beach. Unless you're looking fo a Miami remake, don't stay in the area with all the newer high-rises. The walled city is cute, but it's not worth staying there. Within a day you've seen it all and it's relatively expensive. Everyone is a tourist and it's super hot because there's no breeze with the walls. I recommend staying in a residential area south of the high-rises. It's a safe and charming place with friendly locals who are always out on their porches. Everyone says hello to you here. More culture, more affordable, laid-back, but no co-working.
🎒 Nomad
💵 Cost
📡 Internet
😀 Fun
👮‍♀️ Safety
Amazing, amazing, amazing. I initially arrived there for 2 weeks with an intention for it to be just a transit stop, but stayed there for 3 months. Stay in the right areas (Condesa, Roma, Coyoca, Polanco, Coyocan, etc), take Uber and take basic precautions. It's a lovely town with endless food options and work options. Accomodations are not cheap by Mexican standards, but very affordable comparing to USA. It's just a great place to live, in my opinion. The only thing that is bad is quality of the air (not everywhere, though, but in general). If you are sensible to a bad air - take a trip and see how you adjust to it. It's a big issue, yes, but I feel like the are much more pros than cons. Viva Mexico!
🎒 Nomad
💵 Cost
📡 Internet
😀 Fun
👮‍♀️ Safety
🎒 Nomad
💵 Cost
📡 Internet
😀 Fun
👮‍♀️ Safety
🎒 Nomad
💵 Cost
📡 Internet
😀 Fun
👮‍♀️ Safety
Beautiful location but it's just way too expensive. You need to work full time at a tech company here to really afford it. It's also quite small. The divide between rich and poor is obscene, including a lot of homeless and many people asking for money all over. The tech workers who dominate the transplant crowd that you'll be around are mostly workaholic spoiled privileged people full of themselves, not the type I enjoy hanging out with. All the artsy, alternative, and activist types the city used to be known for either live in Oakland or left. The gender ratio is way too heavy on single males, so good luck getting a date, let alone a long term relationship, if you're a straight guy. Obviously, Internet speeds are great, plenty of spots to work from. Nightlife is pretty lackluster as you can imagine.
🎒 Nomad
💵 Cost
📡 Internet
😀 Fun
👮‍♀️ Safety
Buenos Aires has everything, nightlife (excellent bars and clubs), culture, art, running places, etc. Though insecurity could be an issue, it is not as high as it may seem; if you know how to get around, nothing will happen to you. It is also quite diverse in terms of LGBTTQQIAAP and there's plenty of offer to be entertained. I see that hospitals are badly ranked in the Nomad ranking but I'd like to make a point here: public hospitals are free to use by anyone (no matter nationality nor residency status) and they are collapsed. Normally, people pay (the ones that can) around 100/110usd per month (the same way you pay in the majority of the countries) for a private health system which is excellent. So, that is not an issue at all.
‹
›
×
Join
Nomad List
Join 100,000+ nomads traveling 🌍around the world
🚫 Remove all ads from Nomad List
Join
Nomad List
3 Month Membership
$20/month
Billed in one payment of $60

12 Months Membership
$8.25/month
Billed in one payment of $99

Lifetime Membership
$149
Billed in one payment of $149

You get immediate access after clicking Join Now
By signing up, you accept our
terms of service
.
Monthly and annual plans rebill unless canceled.
Prices in US dollars. Billed from Nomad List, Singapore.
Welcome to
Nomad List
💖 Thank you so much for supporting Nomad List! I really appreciate it!
📬 First, please go to your email and click the confirm link first to verify your email address.
💌 After you confirm your email I'll sent you an email with more info.
👩‍💻 You can then start using all the Nomad List member-only features!
💭 If you have any feedback, please tweet me!