🌇 Who's in Melbourne now?
There's lots of people here now, want to organize a 🍻 meetup? Post a message in #melbourne
💬 What's happening in Melbourne now?
👍 Quick tips
💳 It is not required to tip in Melbourne
🗺 Here's a neighborhood map to get around: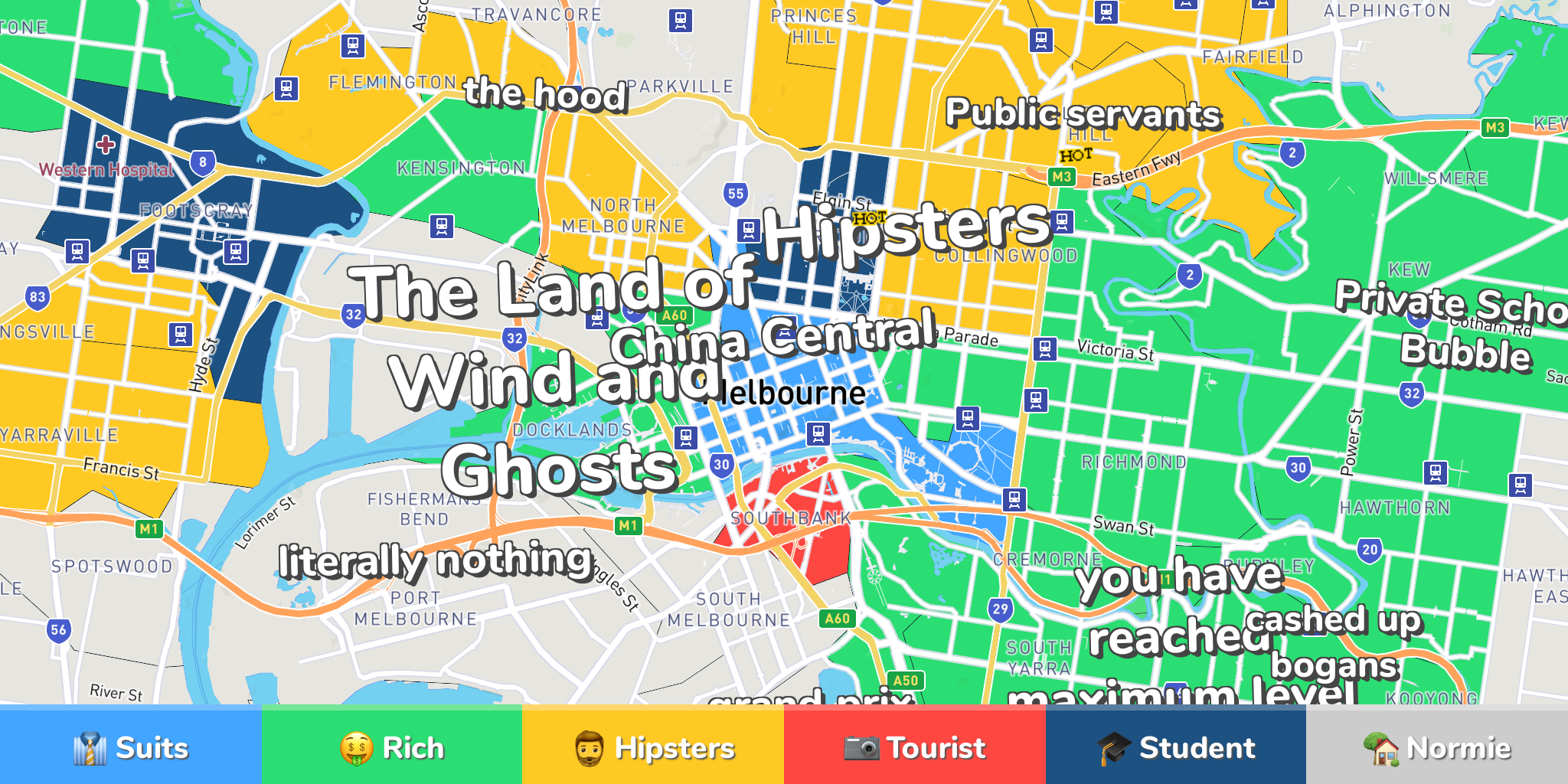 👩‍💻 Where to work in Melbourne?
🛬 Who's arriving in Melbourne soon?
✈️ People who traveled to Melbourne previously
🛫 Where do people go after Melbourne?
🎒 Nomad
💵 Cost
📡 Internet
😀 Fun
👮‍♀️ Safety
This used to be the hotspot for digital nomads in Bali until 2016 when Canggu took over. It's more deserted now and mostly filled with Chinese tourbuses, older Euro families and some yoga girls and yogi's. Not as hip as it once was. Who knows when it will make a revival. I hope.
🎒 Nomad
💵 Cost
📡 Internet
😀 Fun
👮‍♀️ Safety
🎒 Nomad
💵 Cost
📡 Internet
😀 Fun
👮‍♀️ Safety
Beautiful location but it's just way too expensive. You need to work full time at a tech company here to really afford it. It's also quite small. The divide between rich and poor is obscene, including a lot of homeless and many people asking for money all over. The tech workers who dominate the transplant crowd that you'll be around are mostly workaholic spoiled privileged people full of themselves, not the type I enjoy hanging out with. All the artsy, alternative, and activist types the city used to be known for either live in Oakland or left. The gender ratio is way too heavy on single males, so good luck getting a date, let alone a long term relationship, if you're a straight guy. Obviously, Internet speeds are great, plenty of spots to work from. Nightlife is pretty lackluster as you can imagine.
Join
Nomad List
Join 100,000+ nomads traveling 🌍around the world
Join
Nomad List
3 Month Membership
$20/month
Billed in one payment of $60

12 Months Membership
$8.25/month
Billed in one payment of $99

Lifetime Membership
$149
Billed in one payment of $149

You get immediate access after clicking Join Now
Welcome to
Nomad List
💖 Thank you so much for supporting Nomad List! I really appreciate it!
📬 First, please go to your email and click the confirm link first to verify your email address.
💌 After you confirm your email I'll sent you an email with more info.
👩‍💻 You can then start using all the Nomad List member-only features!
💭 If you have any feedback, please tweet me!