💬 What's happening in Mumbai now?
👍 Quick tips
💳 It is normal to tip 7% in Mumbai
🗺 Here's a neighborhood map to get around: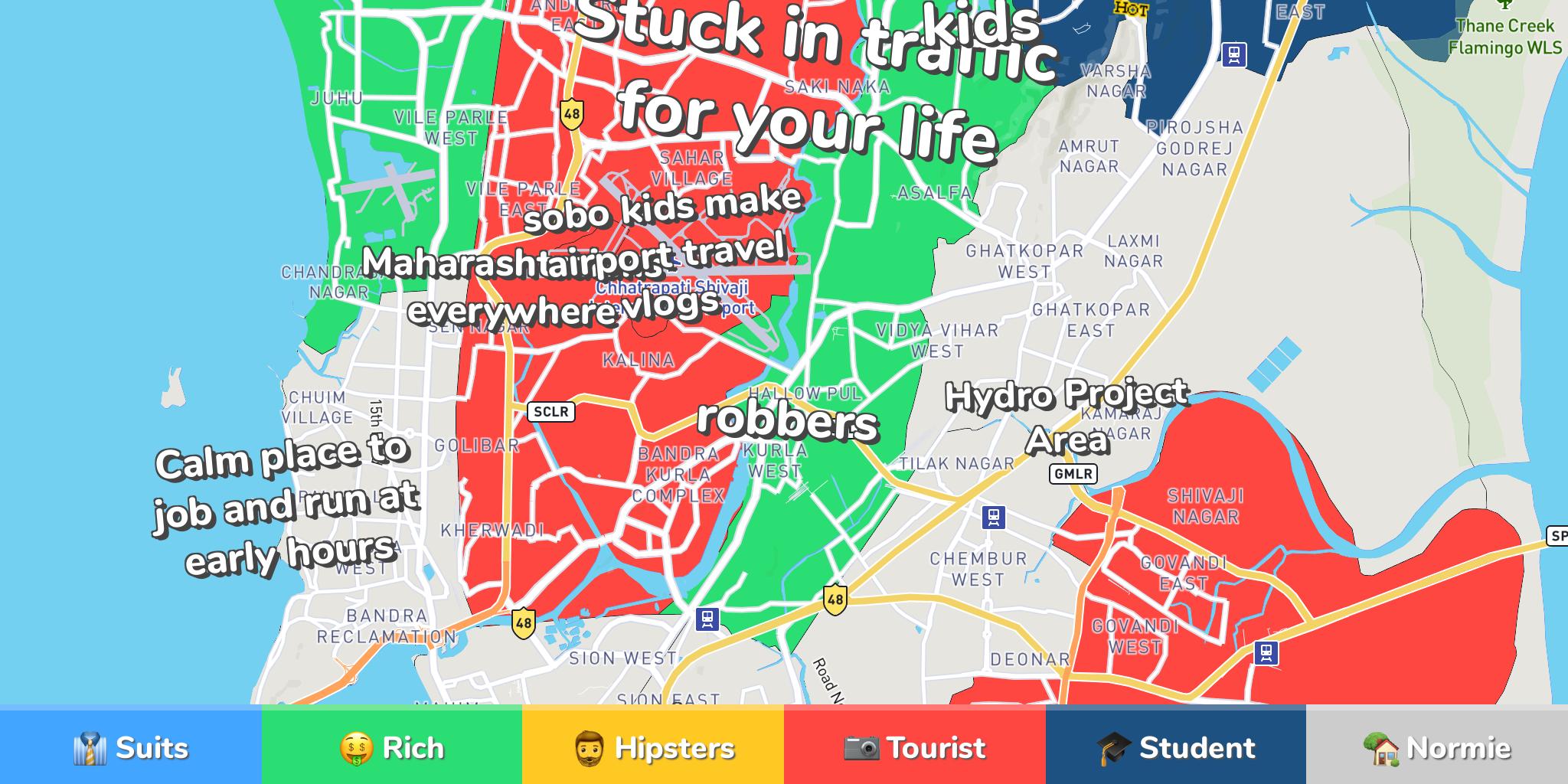 👩‍💻 Where to work in Mumbai?
✈️ People who traveled to Mumbai previously
🛫 Where do people go after Mumbai?
🎒 Nomad
💵 Cost
📡 Internet
😀 Fun
👮‍♀️ Safety
Great if you have a local connection to guide you, or you are okay paying more for a central hotel or airbnb. 75mbps internet is readily available for residents, and cheap and fast data plans and phones that can hotspot are also doable for work. Plenty of decent pubs, microbreweries, coffee shops and restaurants. Tons of amazing street food. Very few dance club type places and only a few spots for live music, comedy etc. Relatively quiet, but pleasant nightlife. Horrendous traffic, but good metro. Uber works well and loads of English speakers makes life easier here than elsewhere in India. Nearly impossible for a foreigner to get long stay visas let alone residency. But you could max out your tourist visa here and in India in general, though Bangalore is only convenient for being relatively tout free and English accessible with good Internet. Goa, Pondicherry, Mysore or Kerala are much more pleasant overall.
🎒 Nomad
💵 Cost
📡 Internet
😀 Fun
👮‍♀️ Safety
I hope less people will come to KL so i have more of the city to myself LOL. Where else can you get fresh made roti canai with teh terek for less than US1.00 for breakfast? Where else can you stay at a 5star hotel for 1/3 the cost of overpriced Singapore. Please, tourist, stay away and leave KL to expats who appreciate the good side of a typical crowded Asian city.
Join
Nomad List
Join 100,000+ nomads traveling 🌍around the world
Join
Nomad List
3 Month Membership
$20/month
Billed in one payment of $60

12 Months Membership
$8.25/month
Billed in one payment of $99

Lifetime Membership
$149
Billed in one payment of $149

You get immediate access after clicking Join Now
Welcome to
Nomad List
💖 Thank you so much for supporting Nomad List! I really appreciate it!
📬 First, please go to your email and click the confirm link first to verify your email address.
💌 After you confirm your email I'll sent you an email with more info.
👩‍💻 You can then start using all the Nomad List member-only features!
💭 If you have any feedback, please tweet me!