💬 What's happening in Nha Trang now?
👍 Quick tips
💳 It is not required to tip in Nha Trang
🗺 Here's a neighborhood map to get around: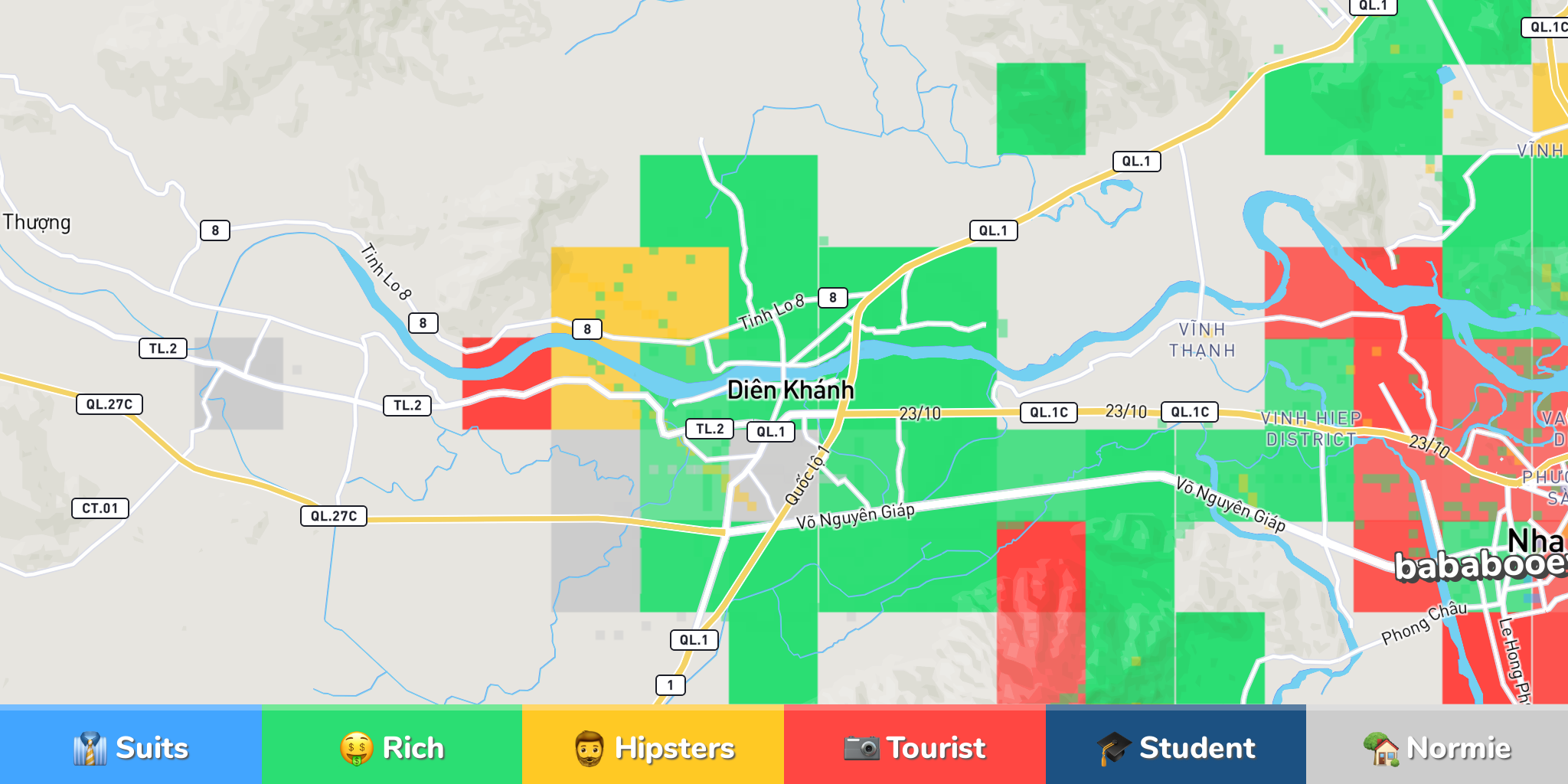 👩‍💻 Where to work in Nha Trang?
✈️ People who traveled to Nha Trang previously
🛫 Where do people go after Nha Trang?
🎒 Nomad
💵 Cost
📡 Internet
😀 Fun
👮‍♀️ Safety
"omagad they like totally stole my iphone", "it's like the worst, everybody is like so aggressive" welcome to the Real World, maybe you now learn to appreciate your cosy first world country and stop bitching about your oppression and your rights. Ho Chi Minh is an awesome upcoming city. It has an original and still traditional look and vibe to it, interesting colors (check out japanese district) not swamped with brand shops (the local coffee shops dominate starbucks in terms of quality and design and some are open 24h !). The nightlife also has plenty of options and be sure to enjoy the view from a the many rooftop bars in the city. You get to see a city full of energetic, young people growing their country after a devastating war and under an authoritarian regime. You get a choice between older buildings in D1 or totally new apartment buildings in D2 all at great value prices. There are a lot of people coming here to work remotely and also to start businesses. Decent sports facilities readily available (check out mach's gym, UFC center). If you don't want to spend money on the gym you can always do a workout on one of the many parks that have bars for chalistenics available. However, beware the pollution and always wear a mask, especially in D1. This is the biggest con here in my opinion.
🎒 Nomad
💵 Cost
📡 Internet
😀 Fun
👮‍♀️ Safety
🎒 Nomad
💵 Cost
📡 Internet
😀 Fun
👮‍♀️ Safety
Nomad-ed here for a month. A totally ok place if you have the budget for it. Coworking spaces are good, 4g everywhere, transportation is effective. Lots of things to do. I was able to find friends. Lots of international people, very few digital nomads. If you're there, consider not renting in the center (as it gets expensive fast) and being creative with places to eat to find cheap options. Be prepared to use cash unless you live in a luxury.
Join
Nomad List
Join 100,000+ nomads traveling 🌍around the world
Join
Nomad List
3 Month Membership
$20/month
Billed in one payment of $60

12 Months Membership
$8.25/month
Billed in one payment of $99

Lifetime Membership
$149
Billed in one payment of $149

You get immediate access after clicking Join Now
Welcome to
Nomad List
💖 Thank you so much for supporting Nomad List! I really appreciate it!
📬 First, please go to your email and click the confirm link first to verify your email address.
💌 After you confirm your email I'll sent you an email with more info.
👩‍💻 You can then start using all the Nomad List member-only features!
💭 If you have any feedback, please tweet me!