🌇 Who's in 🇨🇿 Prague now?
💬 What's happening in 🇨🇿 Prague now?
👍 Quick tips
💳 It is normal to tip 10% in Prague
🗺 Here's a neighborhood map to get around: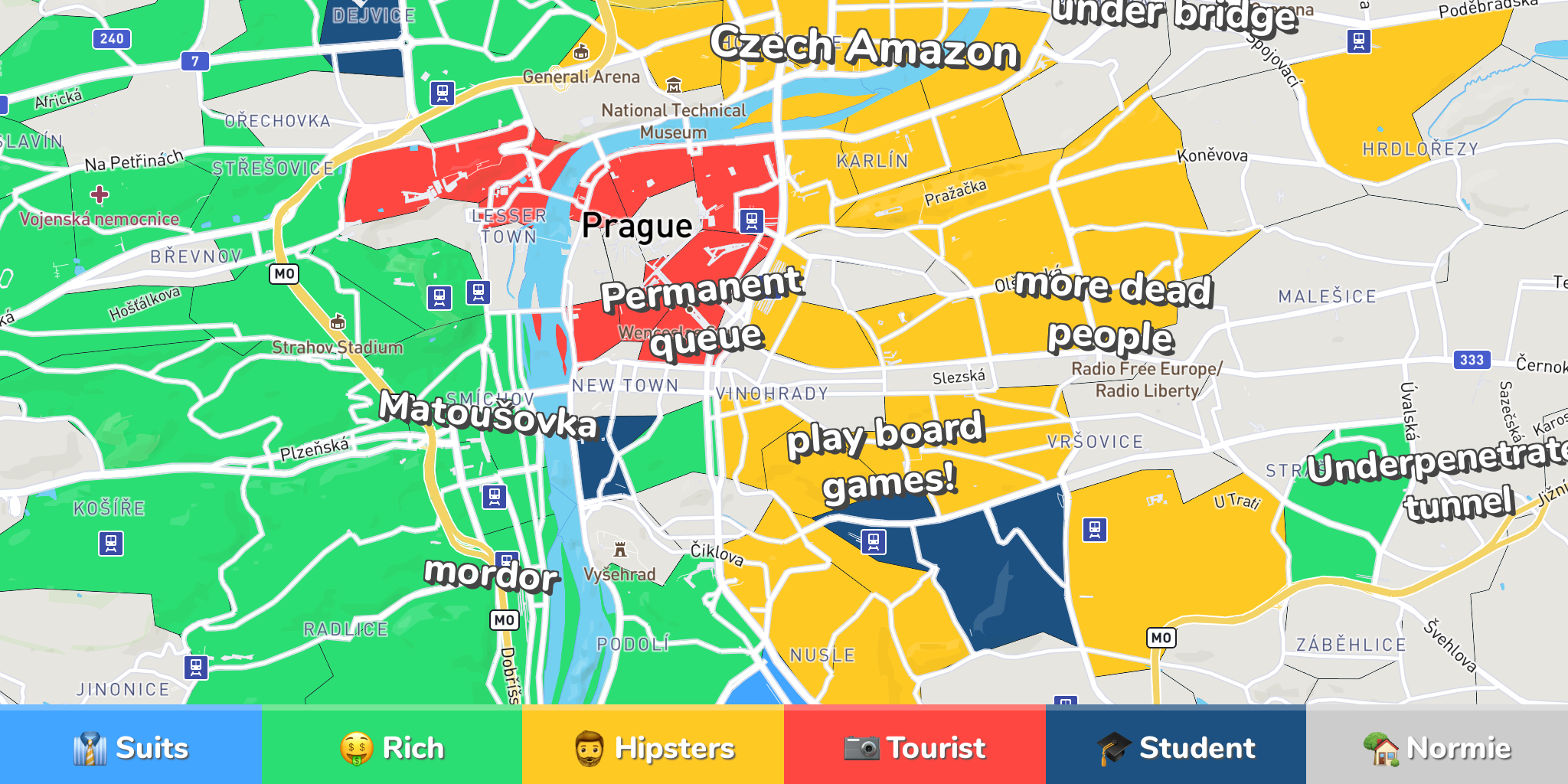 👩‍💻 Where to work in 🇨🇿 Prague?
🛬 Who's arriving in Prague soon?
✈️ People who traveled to Prague previously
🛫 Where do people go after Prague?
🎒 Nomad
💵 Cost
📡 Internet
😀 Fun
👮‍♀️ Safety
Been living in 3 different centrally located airbnb in Berlin (2018), each between 800 and 900€ per month for 40-45 sqm (we're two, so 400-450€ each). Each time a full flat and not a shared airbnb, legal now since some months (though it was always possible to get a full flat before as well). Internet was always between 15 and 50 mbps. I spend 100€ per week on food, including restaurants (pretty cheap here), check for Turkish market on Maybachufer and Turkish stores in Neukölln (I spend less on food here than in Chiang Mai!). Berlin is such an awesome place to live, very multicultural, very tolerant, many different neighborhoods, quite relaxed feeling, many parks, lakes all around. No need to speak German at all. Come over here, probably one one of the best place on earth ;) (written in Sept 2018)
🎒 Nomad
💵 Cost
📡 Internet
😀 Fun
👮‍♀️ Safety
Have spent over 4 years living in Budapest and also extended periods in many other places usually towards the top of the rankings on nomadlist. Nothing compares to Budapest. It is by far the best place in the world to live for people of all ages, but especially young people. It has everything and anything you could possibly want and it's centrally located in the best continent on the planet. I moved away for a few specific reasons but really hate that I had to. The only city I think is even close in comparison to how great Budapest is, is Barcelona.
🎒 Nomad
💵 Cost
📡 Internet
😀 Fun
👮‍♀️ Safety
One of the most well known cities, few will be surprised by what they see and experience. Very high cost of living can make it tough for many nomads. A lot of things to see and do but most of that costs money. Can feel overwhelming and oppressively business oriented (ie, full of very serious yuppies and places catering to them), especially in Manhattan south of Harlem. Ton of single people, which is good on paper but means everyone you date will get distracted by another person, or multiple, unless you are extremely exceptional, before you have a chance to meet again, never ends. Weather sucks hard from July to August and January to March/April. It's an okay city if you're a biker and varies a lot. Some areas are quite protected, others have no bike lanes. In general, it can be dangerous if you want to commute by bike, it's not Amsterdam. Friendliness of the people varies a lot. I think income/wealth, where they grew up, where they live within NYC, their job, etc. can often give you an idea of what to expect. Service at stores is usually pretty unhelpful and unfriendly but, again, it varies, even within the same store. Internet is fast for the most part. Great selection of food, just a bit pricey besides some of the cheaper pizza slices. Transportation system is good, no need for a car. However, the subway lines are notorious for having issues during rush hour and are usually jam packed. Also, the stations look decrepit and are way out of date. It's pretty safe. Street scams are more prevalent in tourist areas, pick-pocketing and random phone snatching isn't really anything most people worry about. Can be very noisy depending on where you live. You may wake up to extremely loud construction every morning.
🎒 Nomad
💵 Cost
📡 Internet
😀 Fun
👮‍♀️ Safety
Awesome place to travel to, fun environment and beautiful city.
🎒 Nomad
💵 Cost
📡 Internet
😀 Fun
👮‍♀️ Safety
London is an amazing city but it's eye-wateringly expensive, don't expect to save money... Expect to be paying a minimum of £600/month for a bedroom in a shared house (and for this price you'll be in zone 2/3). Look on spareroom for houseshares and openrent for flats. Download the app Citymapper to help you get around it's a godsend - London is a massive city and it can take ages to get from one place to the next. There's tonnes of cafes, workspaces and public spaces to work in (Google campus, Barbican, Southbank centre etc). World class food, world class culture, people from all over the world! Liberal city, mostly safe... Bad air quality though. Don't come here thinking you can do it cheap as you will end up in a 10 person houseshare with a dodgy landlord and be stuck in some crap area of town. It's a hard, ruthless and expensive city to break into, plus we have a population of over 8.6MILLION so competition is tough. There's start-ups on every corner so plenty of people in similar situations. Just factor in the cost and be willing to stay for a while (so you can properly embrace the city) and you'll have a blast.
‹
›
×
Join
Nomad List
Join 100,000+ nomads traveling 🌍around the world
🚫 Remove all ads from Nomad List
Join
Nomad List
3 Month Membership
$20/month
Billed in one payment of $60

12 Months Membership
$8.25/month
Billed in one payment of $99

Lifetime Membership
$149
Billed in one payment of $149

You get immediate access after clicking Join Now
By signing up, you accept our
terms of service
.
Monthly and annual plans rebill unless canceled.
Prices in US dollars. Billed from Nomad List, Singapore.
Welcome to
Nomad List
💖 Thank you so much for supporting Nomad List! I really appreciate it!
📬 First, please go to your email and click the confirm link first to verify your email address.
💌 After you confirm your email I'll sent you an email with more info.
👩‍💻 You can then start using all the Nomad List member-only features!
💭 If you have any feedback, please tweet me!