🌇 Who's in 🇹🇼 Taipei now?
👍 Quick tips
💳 It is not required to tip in Taipei
🗺 Here's a neighborhood map to get around: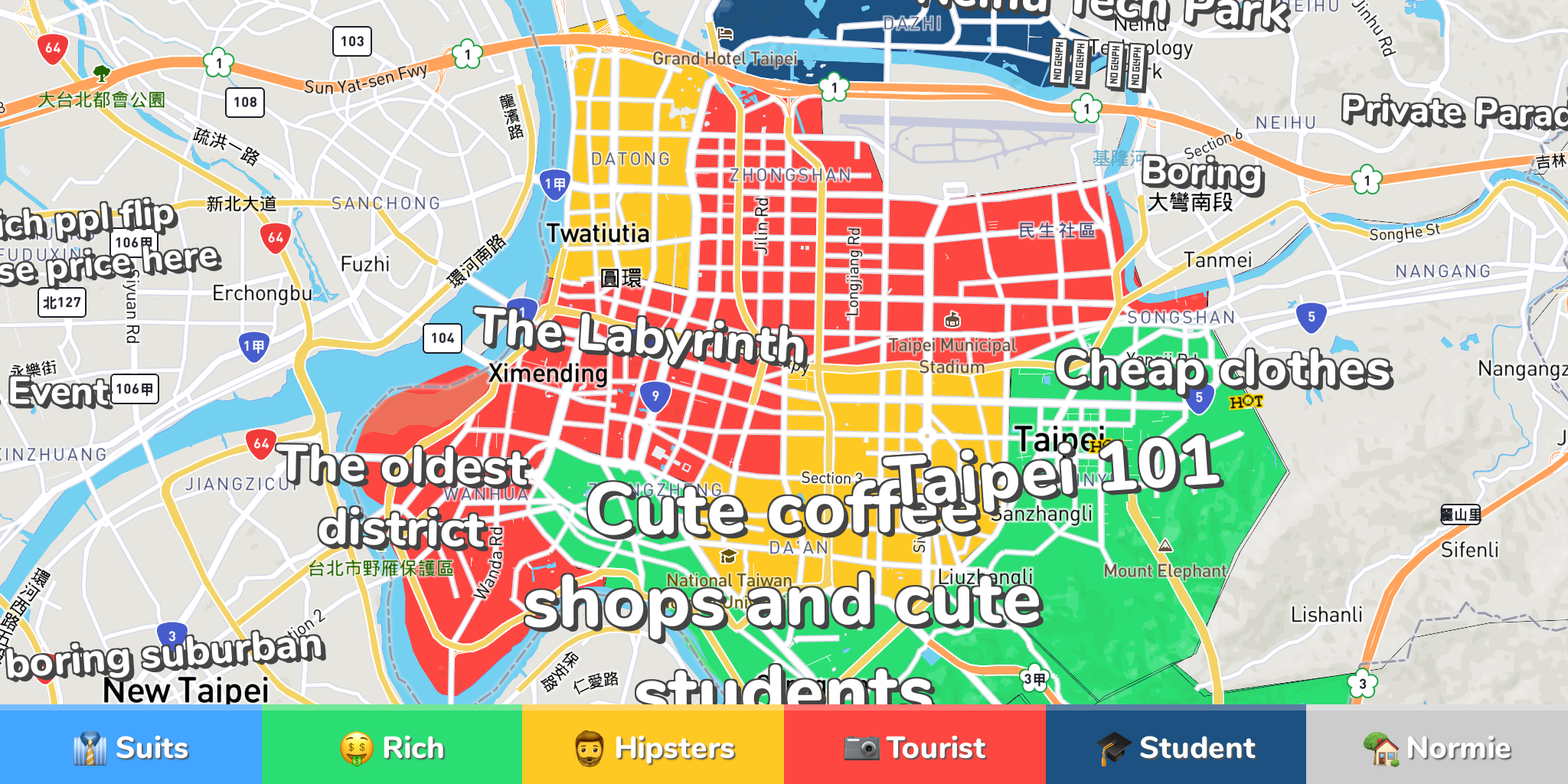 👩‍💻 Where to work in 🇹🇼 Taipei?
✈️ People who traveled to Taipei previously
🛫 Where do people go after Taipei?
🎒 Nomad
💵 Cost
📡 Internet
😀 Fun
👮‍♀️ Safety
You get somewhat acclimated to the weather after a while (and yes, the right wool fabric is the most breathable one so ignore that previous reviewer). I've stayed here on and off for about 4 years now. The expat crowd is great and there really is a lot of opportunity for collaboration. Many networking events every month and a vibrant startup community. The variety of food is some of the best in the world (although you will have to pay to get quality Western). Shopping is great. Nightlife could be better but should satisfy most people. The real downside is the traffic which has become basically as bad as Jakarta, although Bangkok has much better transporation (both skytrain and subway). Living expenses have risen lately so don't count on this being a budget trip unless you want to resort to street food. Internet speed generally has becoming really great. Fast 4G in all operators. If you stay in a new condo or hotel you will average at least 30Mbit – my current co work place runs at 600.
🎒 Nomad
💵 Cost
📡 Internet
😀 Fun
👮‍♀️ Safety
Really fun city. I think the easiest big city in Asia for westerners to feel comfortable in. People are generally pretty friendly on a superficial level, quick to smile, laugh, and help. Unfortunately, becoming real friends with Japanese is much more difficult and most cannot speak English. Store staff are mechanically polite like robots, which is better than rude, but also a bit weird. A bit pricey and gets more expensive after a year of residence (after you get taxed based on previous year's salary, same for health insurance fees). You can drink in public at any time, though it's not really a drinker city like some European cities are known for. Clubs and music events are expensive unfortunately, though quite a few options. Great public transport system, can just be a bit confusing with all of the different names. The street layout is completely chaotic, which can be fun but also disorienting. You will often have no idea which direction you are facing, like you are in a giant maze. You can find most major international food options but not in great numbers. Obviously, Japanese food is everywhere though. It's technically on the water, though odds are you will live more inland. Still, you can reach the bay within an hour or so and an actual beach further south in Kanagawa within 90min. Japan itself has a lot of cool things to check out as well. Best time of year are spring (cherry blossoms) and fall (cooler, leaves changing cooler), though there are a series of summer festivals that start in August that are incredible (people dress in traditional clothes, food vendors all over, tons of fireworks, etc.) and they have a lot of Christmas lights and displays in December. Dating for men is not bad, just don't come expecting every woman wants you. As mentioned before, most cannot speak English and they're somewhat conservative overall, not big on casual sex. You may have an advantage in the dating pool if you're not an English teacher, since most western foreign guys there are and that job is known for not paying that well, and definitely do if you can speak Japanese near fluently. Some negatives besides those already mentioned: it's really humid and mold develops quickly, there are A LOT of crows that creeped me out and cicadas that are VERY noisy in the summer, finding the right specialist doctor that also speaks English can be tricky, the friends you make from other countries come and go constantly, a lot of guys with issues come here (socially awkward, major womanizers, right wing nuts, escaping something from their home country, stereotypical anime fanatics, etc.), Japanese men are not anywhere near as friendly as the women are and are more likely to be xenophobic (pretty much like every other country), living space is really small for the price, vegetable selection is pretty limited and expensive, a lot of food products contain soy, subways get really overcrowded during rush hour, popular areas get really overcrowded on weekends, it's not that English friendly especially dealing with contracts and anything government related (there is a free foreigner help service that can help you via phone and usually whatever government stuff you're dealing with will have at least one person on hand who understands English and can help you).
🎒 Nomad
💵 Cost
📡 Internet
😀 Fun
👮‍♀️ Safety
It's possible to live in Hong Kong on the cheap. You've got to live far out in the New Territories, or on an outlying island. I spent a summer living happily on Lamma Island for ~$500USD/month in rent for one bedroom in a shared flat. Rent is really the only tricky part--everything else is relatively cheap.
🎒 Nomad
💵 Cost
📡 Internet
😀 Fun
👮‍♀️ Safety
Nomad-ed here for a month. A totally ok place if you have the budget for it. Coworking spaces are good, 4g everywhere, transportation is effective. Lots of things to do. I was able to find friends. Lots of international people, very few digital nomads. If you're there, consider not renting in the center (as it gets expensive fast) and being creative with places to eat to find cheap options. Be prepared to use cash unless you live in a luxury.
🎒 Nomad
💵 Cost
📡 Internet
😀 Fun
👮‍♀️ Safety
Beautiful location but it's just way too expensive. You need to work full time at a tech company here to really afford it. It's also quite small. The divide between rich and poor is obscene, including a lot of homeless and many people asking for money all over. The tech workers who dominate the transplant crowd that you'll be around are mostly workaholic spoiled privileged people full of themselves, not the type I enjoy hanging out with. All the artsy, alternative, and activist types the city used to be known for either live in Oakland or left. The gender ratio is way too heavy on single males, so good luck getting a date, let alone a long term relationship, if you're a straight guy. Obviously, Internet speeds are great, plenty of spots to work from. Nightlife is pretty lackluster as you can imagine.
🎒 Nomad
💵 Cost
📡 Internet
😀 Fun
👮‍♀️ Safety
"omagad they like totally stole my iphone", "it's like the worst, everybody is like so aggressive" welcome to the Real World, maybe you now learn to appreciate your cosy first world country and stop bitching about your oppression and your rights. Ho Chi Minh is an awesome upcoming city. It has an original and still traditional look and vibe to it, interesting colors (check out japanese district) not swamped with brand shops (the local coffee shops dominate starbucks in terms of quality and design and some are open 24h !). The nightlife also has plenty of options and be sure to enjoy the view from a the many rooftop bars in the city. You get to see a city full of energetic, young people growing their country after a devastating war and under an authoritarian regime. You get a choice between older buildings in D1 or totally new apartment buildings in D2 all at great value prices. There are a lot of people coming here to work remotely and also to start businesses. Decent sports facilities readily available (check out mach's gym, UFC center). If you don't want to spend money on the gym you can always do a workout on one of the many parks that have bars for chalistenics available. However, beware the pollution and always wear a mask, especially in D1. This is the biggest con here in my opinion.
🎒 Nomad
💵 Cost
📡 Internet
😀 Fun
👮‍♀️ Safety
I just got back here in late 2018 and it's better than ever. People who say "Chiang Mai is overrun by nomads" are really mistaken. I hardly saw them. I did see lots of Chinese and some Korean tourists, but they were all quite nice and mostly around Nimman. There's also the few American vegan midlifer's in the Old City center, but that's about it. Chiang Mai is cool and breezy, there's now public bicycles literally everywhere that you can rent for 250 THB or $6 (per month!) with the MoBike app. The red buses (or Songthaew's) are now legit and don't rip tourists off anymore, so you can drive everywhere for 30 THB or $1. People are nice. It's still super safe, even late a night. The food is better than ever. And thanks to the nomad wave of 2014 in Chiang Mai, there's now lots of hip cafes that allow coworking too. It's a great city.
🎒 Nomad
💵 Cost
📡 Internet
😀 Fun
👮‍♀️ Safety
Stay in luxury Airbnb with all mod cons for less than $700 per month. Eat for less than $5. It's clean and has everything you need, including great supermarkets and restaurants. Stay away from KL if you want history etc, but if you're an expat this ticks every box.
‹
›
×
Join
Nomad List
Join 100,000+ nomads traveling 🌍around the world
🚫 Remove all ads from Nomad List
Join
Nomad List
3 Month Membership
$20/month
Billed in one payment of $60

12 Months Membership
$8.25/month
Billed in one payment of $99

Lifetime Membership
$149
Billed in one payment of $149

You get immediate access after clicking Join Now
By signing up, you accept our
terms of service
.
Monthly and annual plans rebill unless canceled.
Prices in US dollars. Billed from Nomad List, Singapore.
Welcome to
Nomad List
💖 Thank you so much for supporting Nomad List! I really appreciate it!
📬 First, please go to your email and click the confirm link first to verify your email address.
💌 After you confirm your email I'll sent you an email with more info.
👩‍💻 You can then start using all the Nomad List member-only features!
💭 If you have any feedback, please tweet me!